Citrix's deck seems like a fair idea of how this will go. Not terrible in the world of parking decks, but an underutilized footprint all the same. It'd feel more complete (both decks actually) with a half dozen floors of apartments stacked on top.
Current shots of Two Glenwood construction.
Strange looking footers going in there. Anyone have idea of why they are putting in footers that look more look for a huge freestanding tower, as in 100's of foot tall cell phone tower???
That looks like where the elevators are going. It looks like they installed micro piles and you are seeing the tops of them before they pour the caps.
Starts to really get exciting when the footers are this far along. Let's get vertical!
Not sure if this has already been mentioned but ITB insider is reporting the parking deck will have 4 retail spaces in total and will corner Hillsborough and Boylan. That's a major improvement from Citrix for example that never actually utilized their retail space and eventually used it for office space.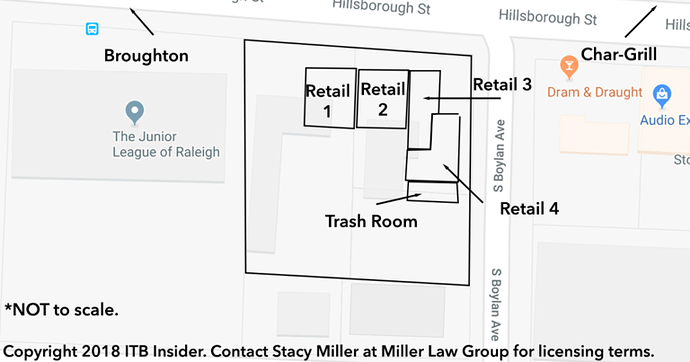 Like that dram and draught is still listed there lol
Citrix tried to lease that space for what, over year anyway, before their own expansion needs arose. There is no guarantee these spaces get leased either, though the location is better for that.
I think an important piece to functionally pulling successful retail past Boylan will be demolishing that setback 60's (70s? 80's?) office building across Hillsborough St from here for critical mass of walkable, properly positioned, retail spaces.
I think that the context is different than when Citrix had that space empty and available. MSFH and Dillon weren't there, and there was a lot less energy in the area. With Bloc83 acting as a connector between Glenwood South and the Warehouse District, there will a lot more foot traffic going forward. That said, Boylan is on the western edge of that connection, so time will tell.
I think if the Citrix space had been available now, it would be leased out to a retail/restaurant. But when it was available, it just wasn't a high traffic location.
Apparently the construction has started for the parking deck. It's quite a beast at 8 stories, 90' tall, and holding 693 cars.
Seeing how fast the first deck went up, and also how fast the SmoHo2 deck went up, I expect this one will be done in under 3 months. I wonder if the 4 retail locations (8.4K sqft of space) will open as soon as the deck is done? Or will they wait until the 10 story tower is completed. Just curious if they try to coordinate these things, or just try to deliver them each as soon as possible.
I hope their first goal is to open Boylan Avenue between Hillsborough and Morgan.
I've heard that it's going to be closed for quite a long time.

When is this baby going vertical? I feel like it should be any day now!
Good question!
And I hope they provide a construction cam like they did for tower 1.
Brilliant! And a decent view to the AAP HQ going up at North Hills. Thanks!


Bookmark that post!