Not sure. Probably. Welcome to the community!
It's being used to drill foundations.
I wonder which tenant is next in line for signage rights

This just hit my feed…
South Boylan closing on Monday within the Bloc 83 construction. (It's a pity they can't align it better)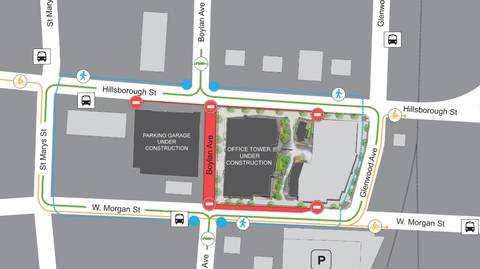 https://www.newsobserver.com/news/local/counties/wake-county/article235802487.html
I actually like the offset alignment of Boylan. It makes people pay more attention when crossing Hillsborough.
and it slows down traffic!
Randomly looking at the leasing brochure for tower 2 and noticed floors 8, 9, and 10 are shown leased. Approx 80,000 sq. ft.! Has it been announced who is taking this space?!
So 30% of office space has already been leased and have not even started on actual building yet. Guess more of the "build it and they will come". Or is that only "commit to building and they will come"

Banks need some level of pre leasing typically. People like Kane, with tons of collateral or his/other financing, can do spec stuff if they want.
Confirmation about parts of the house being salvaged. It is too bad the entire house wasn't saved or moved, but this is better than nothing.
https://www.newsobserver.com/news/business/article235955262.html
"A historic house built in 1875 on the corner of Hillsborough Street where the Bloc[83] parking garage will be built was contributed to the project in exchange for an ownership interest. The house was owned by Hobby Properties, a Raleigh-based property manager.
Instead of being demolished, the house was taken down "brick by brick" and historical materials were salvaged, according to John Holmes, president of Hobby Properties. This included its brick and wood interiors, doors, and leaded windows to be used in a later development."
House and most of the trees are gone! So different and empty looking. Hope that deck starts going up fast. I'm still reserving judgement till it's actually complete, with screening, paint, and retail tenants. But I am optimistic it'll look pretty decent.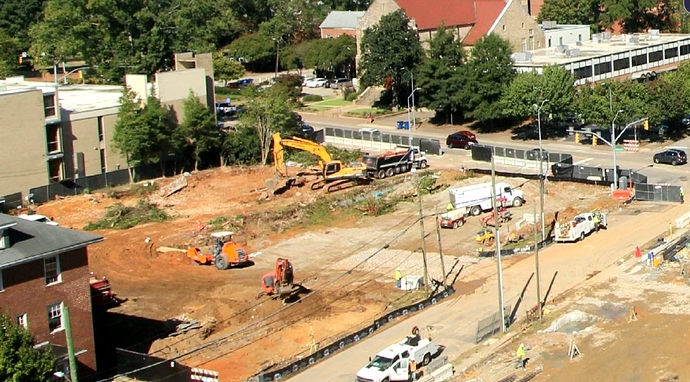 How long do we think before there is steel going up for tower 2?
Citrix's deck seems like a fair idea of how this will go. Not terrible in the world of parking decks, but an underutilized footprint all the same. It'd feel more complete (both decks actually) with a half dozen floors of apartments stacked on top.
Current shots of Two Glenwood construction.
Strange looking footers going in there. Anyone have idea of why they are putting in footers that look more look for a huge freestanding tower, as in 100's of foot tall cell phone tower???
That looks like where the elevators are going. It looks like they installed micro piles and you are seeing the tops of them before they pour the caps.
Starts to really get exciting when the footers are this far along. Let's get vertical!