DTSB: Gone But Not Forgotten
I walked by yesterday on the way to lunch and it looked like somebody was on the patio refurbishing chairs but perhaps they were just moving them out. I didn't pay that much attention. If I get out of the office today I'll stroll by and see what's up.
Thanks!!!

The A/C hotel is on the adjacent lot to the north. My understanding is that the owner of Cornerstone has plans to combine and develop the former Eden Lounge space together with Snoopy's.
Any details on the potential development? Would that mean Snoopy's would go away?
Yikes. I'd be happy for Snoopy's to go away because I don't eat hot dogs, but for another cornerstone bar? I feel like there will be riots
Cornerstone owner getting into bigger developments, so not necessarily another bar. And I'm not sure the Snoopy's property is a done deal yet.
Snoopy's founder died just a few days ago, too.
Closing in on Char-Grill.

Old XoCo location is in fact refurbishing the chairs. Take that for what it's worth.

Great attitude. He doesn't eat there therefore is incapable of recognizing its value and will cheer on its destruction.
I suspect the city will shoot him down if he attempts any more cheeseball bars like down the street. I wonder if he will park is douchebag "Lambo" in front of this too?!
I thought the lambo was the owner of Alchemy? Or are they the same person? It's always parked on Salisbury in front of Wells Fargo on weekday mornings.
same guy…I believe. same douche car…
It's the same owner under the umbrella of "Oak City Group". And yea he parks out front of the Wells Fargo building like he owns it.
I think he even tried to buy the on-street parking in front of Alchemy from the city for his car.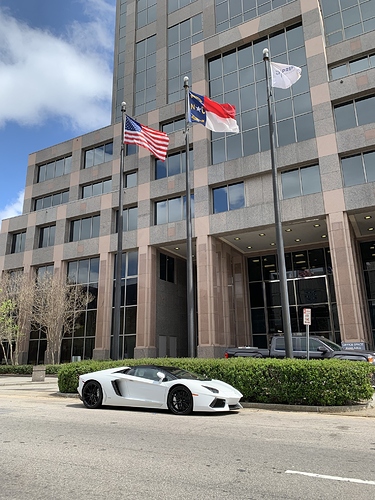 Correction: He put a "Valet only" sign in front of Alchemy where there was PUBLIC STREET PARKING so that he could park there, got called out, city fined him, signs were removed. He tried to literally just claim public street spaces. He is a flaming douchebag.
I knew it was something stupid along those lines, but couldn't remember exactly.
The Snoopys building is disposable. It is an old gas station with no defining features other than that it is painted brightly. It is the farthest thing from a landmark. The building does a terrible job of holding the corner and is a waste of very valuable space.
I do not mind the business though…
Maybe they can move into one of the shipping container spots at Block 83 across the street or something. Or maybe they could merge with Char Grill somehow.
But for goodness sakes let's not get attached to the building that Snoopy's is in.
That, and it's not even the original Snoopy's. If we're going to block development to save any Snoopy's, it should only be for the OG Wake Forest Rd location.