As they say around here, "sure is different."
Pulling the breaker here. I have been busy all day so haven't been following, am getting a sense some organization is needed. We'll be back shortly.
Ok let's continue on with Park City South here in this topic.
Adjacent is the Hammell Drive Mixed-Use, Lake Wheeler Road
Related is talk about Lake Wheeler road, Fuller Heights, and nearby Maywood. Maywood Corridor, Lake Wheeler, Fuller Heights
Make sense?

Do you just go to the other thread and post there, or does it link somehow?
Yes, just hop over to the other thread and post there to continue the conversation.
Snapped a pic of the backside today. Although it looks awful now as a big concrete block, I am excited for the greenway experience this development will bring. Some weed wacking and a bridge and we are cooking!
Is it just me or is this project going super S-L-O-W ??!! BTW I was stopped and not moving in car as this was taken.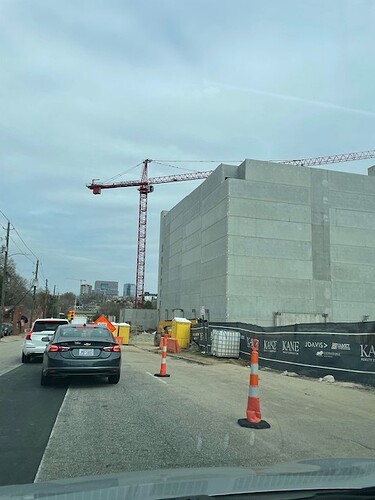 They just wanted to allow us all plenty of time to enjoy that gorgeous parking deck.

WSJ just had an article yesterday of how a massive glut of apartments was about to come online. I believe it said the most in two decades…
Could be they're delaying intentionally. Usually Kane related projects move at lightning speed. The Eastern at NHs is currently offering 2 free months on rent…
But then again, not many folks want to pay $16k a month for rent… I know those are the most expensive units, but still, the Eastern is not a good building to compare to for the average Joe.
The have started putting up the apartments on the backside of this apartment building first. Noticed it while driving out of downtown recently.
Makes sense, work from back to front
I stand corrected. Update to yesterday's post. They are doing some additional building in the back.

I saw the progress on the back side of the parking deck from Saunders yesterday, and this project is going to be awesome. Definitely flying under the radar at the moment with the ugly parking deck, but the way it sits on the site adjacent to the greenway is a new feature for DTR