Loving all these pictures! Thank you!
Really digging how Raleigh is starting to look like a real city, and how the skylines extends out from the core now (at least from this angle).
I love that you even got North Hills into this shot!
Nice catch! I'm use to seeing North Hills from the Peace Projects shots, but here it is from southern downtown! Also the Fairweather site is viewable there in the center, with crane and the slabs at a couple stories now.
This would also be a prime shot for those talented members of this forum with using paint or Photoshop to project what our city will look like with all of the future!
took a stab at something… and added in some height for a made up project east of Moore Square that I wish would happen. (Nash Square can't get all the love!)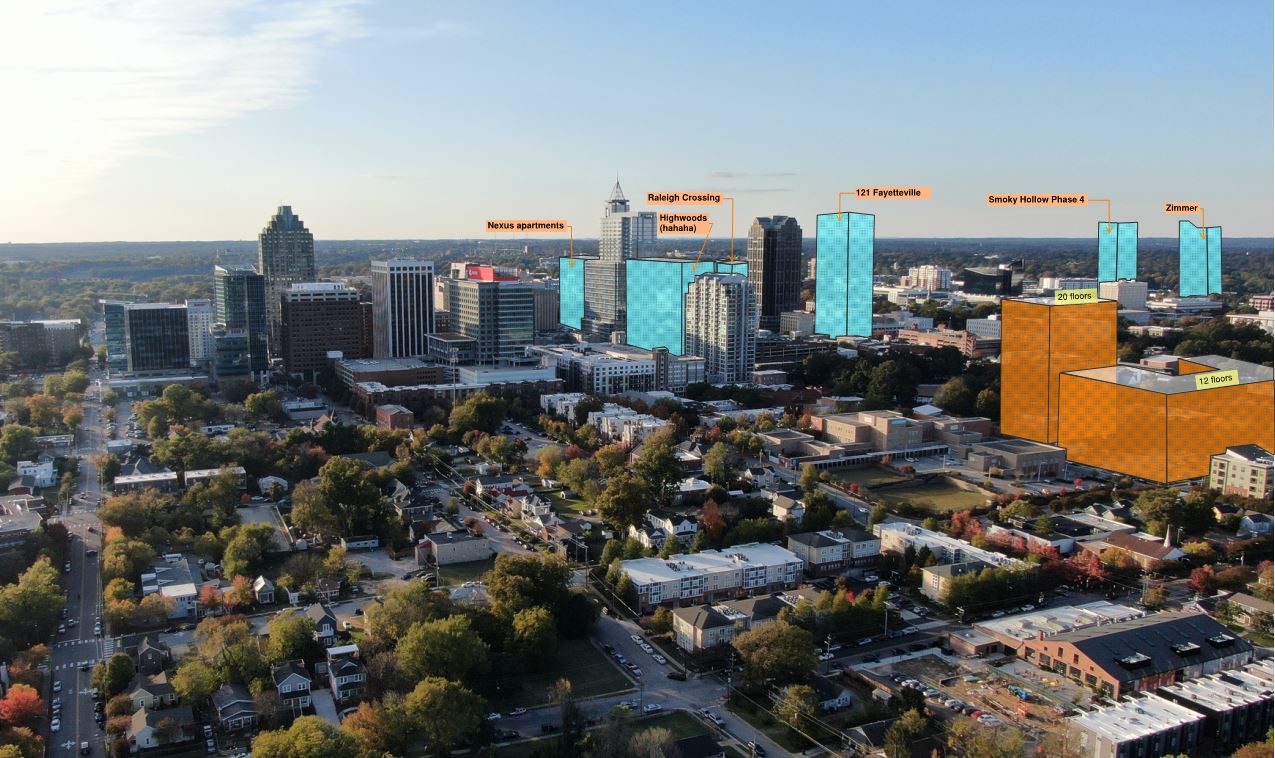 Awesome job! I hope you are on to something with that Moore Square vision.
I can't wait to see this skyline
You have SmoHo 3 labeled as four.
Along with SmoHo 3 and (potential) Zimmer site, more development of State gov't parking lots (especially the huge Museum lots) will do wonders to extend the skyline north. Some smaller infill between Wells Fargo and those buildings would be amazing too.
Height could be coming to 215 N Dawson with the NC League of Municipalities project. Curious if future phases of Seaboard redevelopment might go through rezoning for more height?
I forget what Seaboard is currently zoned for (7 stories?) but even 10-15 would do wonders to connect the gov't district/Glenwood South skyline to the CBD.
EDIT: The SECU building is 11 stories if I'm not mistaken, and more of that height (and more of that design quality especially) would be great on the smaller lots that are currently zoned for 5-7 stories.
This really illustrates how a building like FNB would have done wonders had it been on the Nexus site. Which it basically will be soon enough
…and there should be two buildings of that height on the Nexus site! Plus a 3rd that'll be only slightly shorter, if I'm up to date on the renders. It will definitely extend the skyline in this shot to the West, can't wait to see the true impact of that project.
It would be great to see 121 Fayetteville rise up and fill into the skyline.
Hard to believe the 42nd Street Oyster Bar has been around over 30 years.