Saying future is fact? Bold move Cotton…
I hope the chimney swifts — that I think were living in that chimney — have relocated. I'm pretty sure I witnessed them taking flight out of there one evening. It was so cool seeing them flying around the wye and really close over Boylan Bridge. I hope they find a new, more permanent home close by.
Honestly, good. They went from a slam dunk to a foul shot with the update…
Perhaps it'll become a parking lot and Highwoods will buy it.
Sorry, on a more positive note I have some aerial updates I'll be posting soon. Just applying graffiti.
Updated aerial shots of the ongoing demo:

#dtraerial #rusbus
Dam they really going crazy for this development
Laying fire hose on train tracks makes me cringe. Great pics!
Dang I wish they'd save those skylights and reuse - cool old warehouse skylights!!
Just to confirm, you're saying that we shouldn't see a crane on this site until January 2024??
I read that as January 2023…
I bet we could start a thread dedicated to pics taken in front of this mural over the years. I have several.
That sounds like a thread I would mute.


Took some photos on this afternoon's rainy walk, including ones from up on the Casso Hotel parking garage.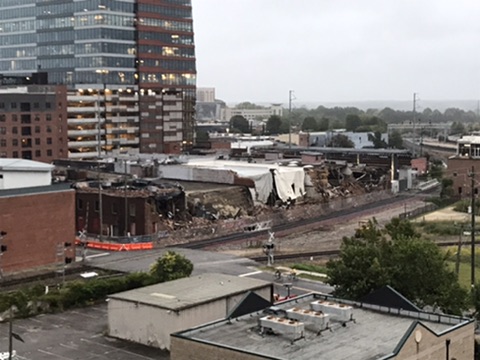 Per the aforementioned dev meeting yesterday…
We won't see vertical construction here until late '23 due to current design being tweaked. Seems they're working to restore some of what was lost in the original plans and will be presenting to Go Triangle at next meeting.
Well that's interesting. Disappointing to see another year go by before vertical construction starts, since we've all gotten excited with the current demo. Going to be quite the empty, bombed out looking area for awhile it seems. But obviously good news if they can restore any of the original design, and likely worth the wait.
Again?


Didn't they just tweak/remove most of the interesting things about this complex?