In the top left is the "exit" from the station and the bottom right is the "entrance"?
Where West Street ends, top left, is a two-way entrance into the station's surface parking lot and roundabout. There is also a more direct entrance, but not exit, on the lower left. (intersection of West and Martin)
Here's a good map.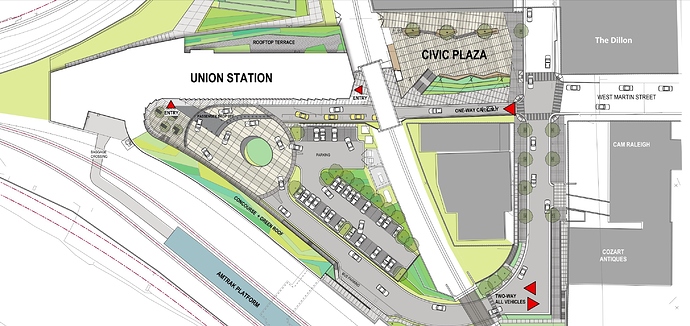 Thank you Leo!
By the way, I am truly getting into this new format: DTR
Thank you for all that you do and for what you/it allows for us to do!
You're welcome. I'm glad people are starting to get into it!
I wish I were more technically inclined but I just didn't get that gene…Lol
But I try…

Today's TBJ is reporting that a 20 story tower might be built in the warehouse district !
Thanks for the heads up on that. I just read the article. In a nutshell, the hope is to go to the market with a RFQ by the end of the Summer, and eventually end up with a public/private project where GoTriangle retains ownership of land and operates their bus terminal, while possibly leasing the air rights over the property to the developer. Their consultant has identified possible scenarios for the project to include some combination of office, residential and hotel occupancy, all of which would have retail on the ground level. 20 floors was deemed feasible by the consultant, but the properties are currently zone for 12. So, we're looking at a potential variance scenario that would certainly test the waters. A successful +8 floors scenario could open all sorts of options for DX20 and DX40 properties downtown. GoTriangle wants the project under construction within 2 years.
They are not presuming that the warehouse building facades would be retained a la Citrix and Dillon, but are open to that being the scenario. Frankly, I think that should be required. What's the point of Dillon and Citrix retaining their warehouse credentials, only to let the big one between them be demolished completely? My money is on Kane for this.
On a personal side note, I think that all RFQs should be required to include a FiveStar inclusion or relocation in the neighborhood.
Thanks John for this great info. ! I'm not a subscriber to The TBJ & could not read the article !
ULI Triangle hosted a tour of Union Station and The Dillon yesterday. I put together a quick video recap of the Union Station tour, check it out below:

Stan Wall of HR&A Advisors talked to Jeff Wood on the Talking Headways Podcast from Streetsblog. Stan mentioned working with in the Triangle on the Durham-Chapel Hill Light Rail and the new Raleigh Bus Terminal. It is only a small piece but offers another perspective on our expanding transit system.
Talking Headways Podcast
Episode 190: Textbook Value Capture and TOD
Looks like the Official opening date has once again been pushed back.
They don't anticipate the first train until sometime in July.
That platform was finished months ago, IIRC even in late 2017. Sounds like a small project management kerfuffle is taking place.
Welcome to our modern transit, where even a train station is delayed by months and still has no office, restaurant, or retail tenants
Raleigh' Union Station finally looks ready:
Makes parking seem so high maintenance.

Isn't Union Station supposed to be opening tomorrow morning? Not seeing any update for a week or two in the news makes me wonder if it's still happening.
I actually walked around the whole exterior tonight. Very impressive. Felt weird being there but there were several other cautious onlookers too, and the security guard inside waved and gave us a big smile.