The floor is unfinished or something. But thanks for the pics.
I think it's a good choice to start with BRT. If it spurs development along those corridors maybe it will someday warrant a conversion to LRT. Hopefully ROW acquisitions in the corridors will take this into account, making a future conversion less expensive than a ground up system.
If the BRT does ever get converted to LRT, maybe the BRT rolling stock we're using at the time could be relocated to new BRT routes to NH, Crabtree Valley, Brier Creek/RDU, or whatever the next priorities for transit development are.
Just came across this article:
Yeah I was just there and visited the Oodi. That article doesn't show you the heaps of tourist flocking to it during the summer. It's nice. Very much designed to handle tourists. They have a professional kitchen and cafes for the tourists. I can't say I was extremely impressed and there's not much space on the ground floor but better than having nothing.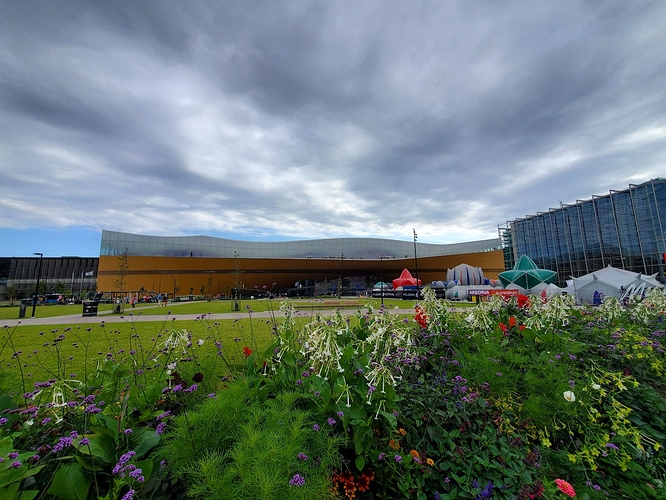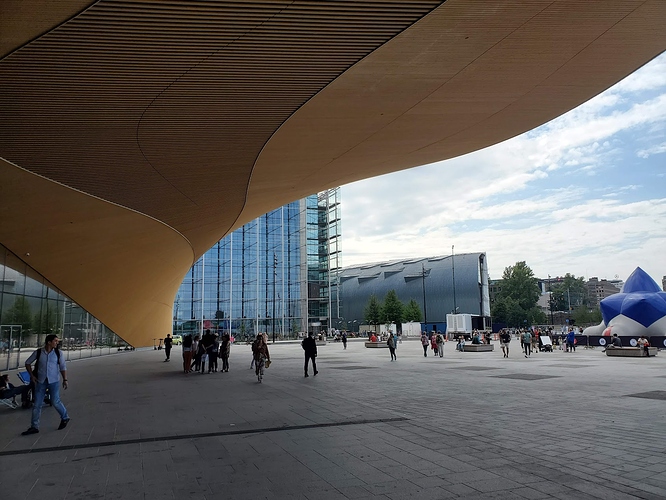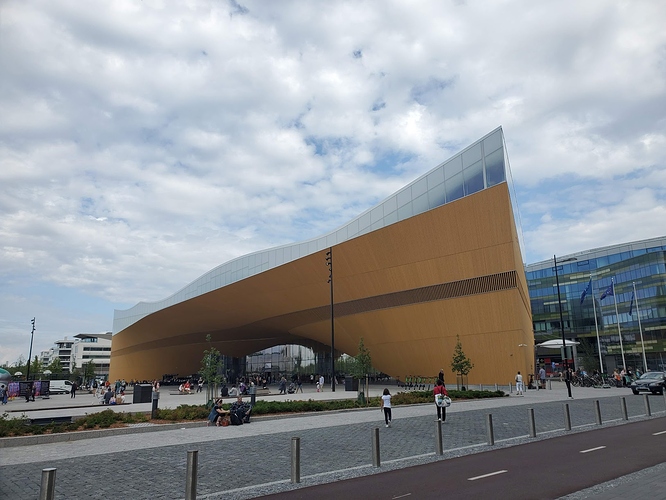 I know exactly where that is. I've been to Helsinki several times since one of my best friends lives there.
Houston, TX. Downtown Sunday afternoon. Ghost town.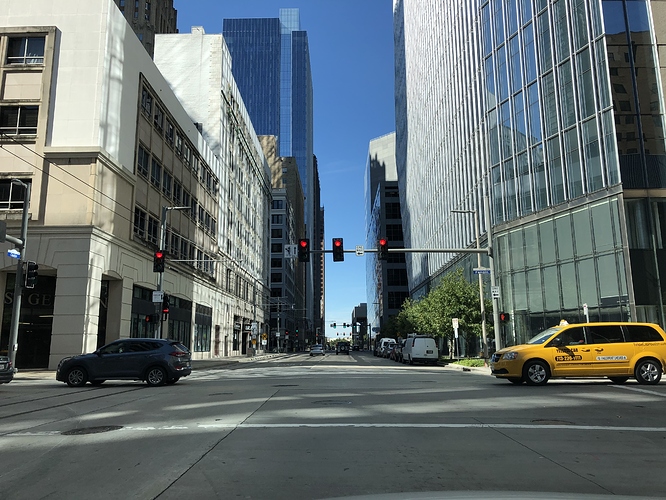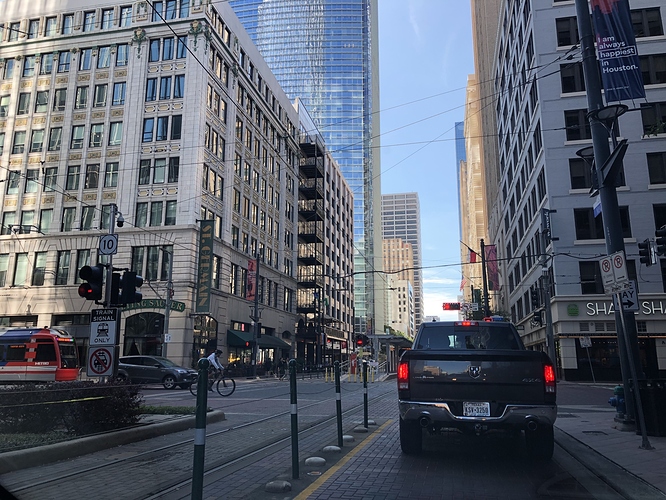 Odd place. Great ethnic diversity but few walkable areas. Nice around Rice University.
Haven't been but Downtown St. Louis looks like a ghost town too from pictures I've seen.
My daughter's dorm is just out of the picture to the left.
I hope you enjoyed your visit. There is some darn good good and foot in the 'Ham.
Downtown Houston is a lot like how Downtown LA was a decade ago: just skyscrapers surrounded by five-lane streets with no pedestrian scale or life. LA has improved a lot so it'll be interesting to see if Houston follows it.
Houston has 6 miles of underground tunnels and a lot of shops and restaurants are located below ground. So it's a bit deceiving…
Funny, I was thinking that Houston reminds me of downtown LA as I drove around. Just without the nice landscape. Obviously greater LA with Santa Monica, Malibu is a different story. I can see how Houston Is the new immigrant gateway with its lower cost of living and established immigrant enclaves. Amazed by the amount of ethnic restaurants. Not a pretty place but vibrant.
Correct about St. Louis. The immediate downtown is pretty barren. They have commercial districts scattered all around the city. Central West End, The Soulard, Laclede's Landing, The Hill, and the Stadium area to name a few.
In Austin now. Had to see what all the hype is about. So far I am convinced that I am too old for this place. Will take some pictures tomorrow.
Meanwhile rooftop party in Durham tonight yields these amazing views of parking decks and self storage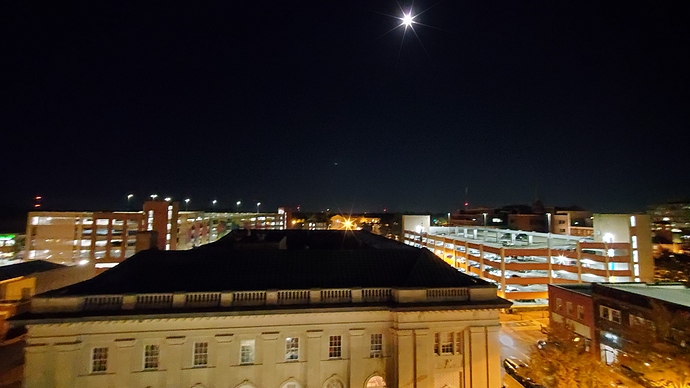 Can not form an opinion about Austin yet. I think my expectations were some kind of progressive new urban city done right city on a hill. Seems a little junky, haphazardly planed due to rapid growth. The Domain however does the faux cityscape thing very well. North Hills could use a little more landscaping to soften it up.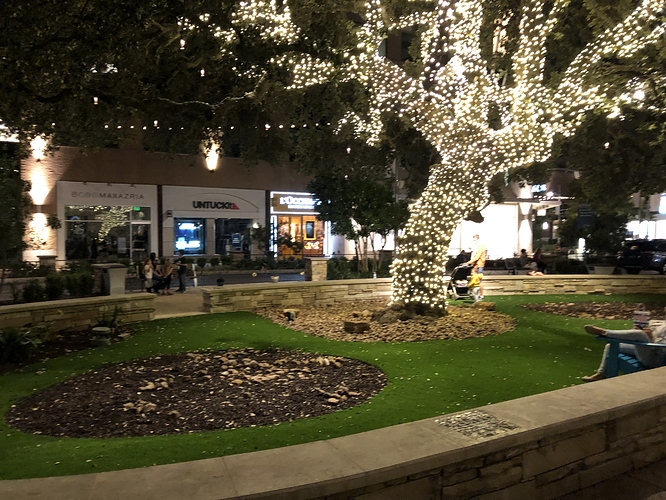 Think a Graduate Hotel like in Bloomington, Indiana would be perfect feel and fit at Highwoods property assemblage at 327 W. Hargett (old Goodwill). New build, but industrial / warehouse feel.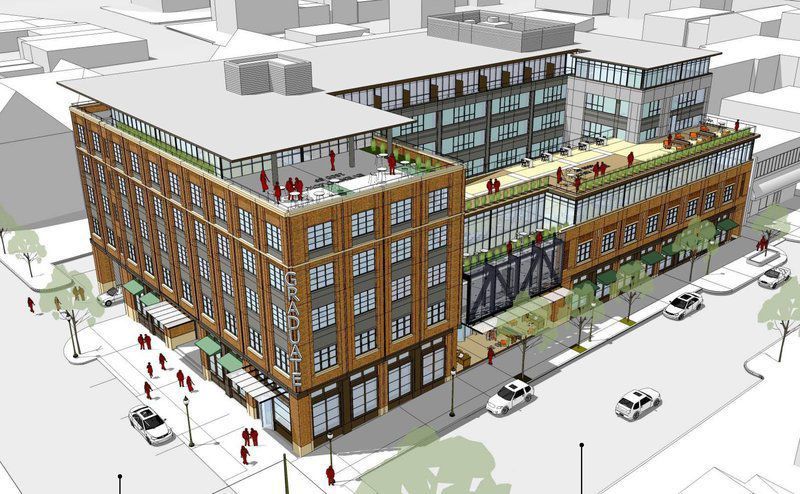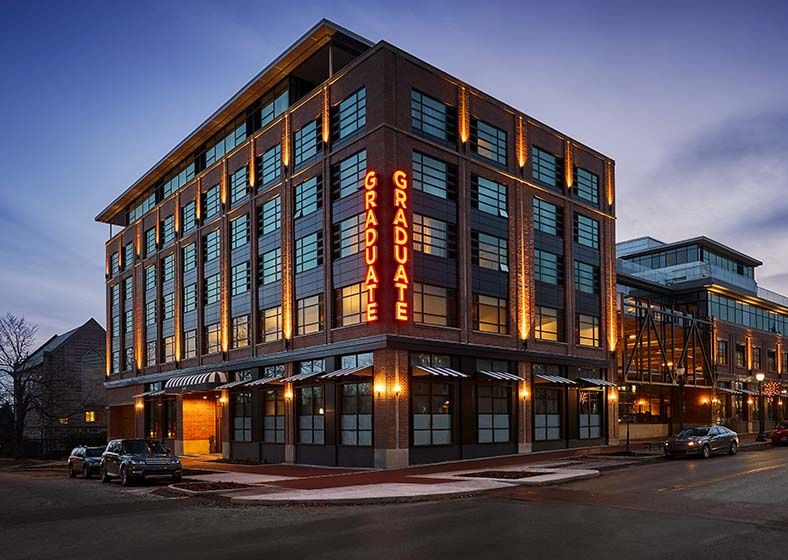 I like Austin. Been numerous times. However, I feel like their hey dey was about 10 to 15 years ago. It's gotten too big recently IMO. I like that Raleigh is growing, but not unbridled growth.
When I went to Austin, being the cynic that I am I was prepared to find the place overrated… and it totally wasn't. Socially it was all the great things people said about it. Lots of great food, great beer, live music, and big beautiful parks all over. Good urbanity in its core. And the natural scenery right in town and near it is something to be envious of. If the Uwharries were a bit closer… alas.
Planning wise it's a mess though. I wouldn't put it in the same category as Denver or Portland in that regard. We don't want to get that large without transit. And we already do a better job with greenways.
6th street was impressive. The crowds get so huge there they have to close the street to car traffic at certain hours. It's like the state fair here, just a wall of people. Begs the question though… why isn't it just closed all the time? Why isn't it a mall? I'm puzzled by that. Had they made stronger efforts to move away from the car early on, it would've done great things for them, because traffic is preposterous.
I've been to The Domain a few times. It's much further out from the core of Austin and it feels way more disconnected from it than North Hills does to DT Raleigh.
Thanks. I have a conference at the Fairmont next November. I'm going to fly in few days early.