I was in Barcelona this past spring and it's street level experience was just incredible. It's one of my favorite cities if not the favorite.
My experience with Barcelona isn't so positive, but I've been there mainly for the annual Mobile World Congress that attracts 100,000 attendees, not to mention the support staffs and temporary workers. I learned to stay in a hotel at the Madrid airport and commute to Barcelona daily for the trade show.
Barcelona is my all time favorite city I've ever visited. There is something magical about that place.
I was going to say the same thing. Planning on going to Europe summer 2020 and will be including a stop in Barcelona for a 3rd time.
I'm not sure where else to post this so perhaps Wake Transit Plan is it. @dtraleigh, if this is more appropriate elsewhere, please feel free to move me around.
I got some very interesting information from a credible source around downtown traffic over the last decade and a half and I think most of you will find it almost hard to believe. The traffic study comes from a legitimate firm that is prominent in Raleigh.
The following traffic data is from 2003 through 2017 with the business stats being from 2017.
77 employees per acre: more than any other office submarket in the Triangle
800+ business located downtown
19% growth in employees in the past 7 years
Downtown Raleigh already has doubled the number of housing units since 2000 and is poised to triple the number of units by 2020, if the current pipeline of residential projects is built out. Presently downtown has an estimated 5,700+ units and will have approximately 7,600 units within the next five years.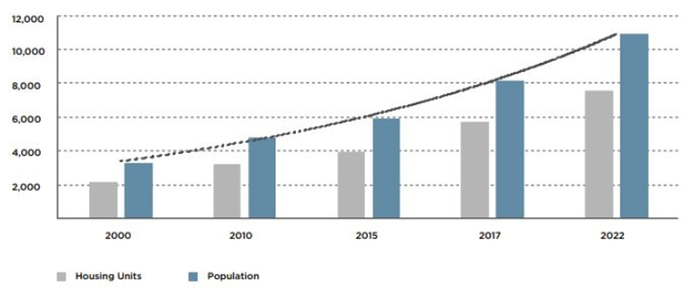 *Downtown Raleigh's current population is an estimated 8,200 residents. Within one mile of downtown's center point, the current population is an estimated 16,500. Downtown's population is projected to be over 11,000 residents by 2022. Also by 2022, 19,640 residents will reside within one mile of downtown's center with an opportunity for even more growth if the present rate of development continues.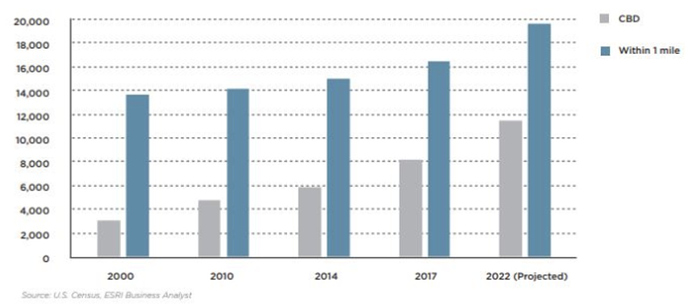 Now for the really interesting data, traffic (based on AADT or Average Annual Daily Traffic):
Net Change from 2003 to 2017 is 5600
Percent increase from 2003 to 2017 is 2.00%
Annual % increase from 2003 to 2017 is 0.14%
If you break that down to the last 2 years of the study:
Net Change from 2015 to 2017 is -5800
Percent increase from 2015 to 2017 is -1.99%
Annual % increase from 2015 to 2017 is -1.00%
Again, the annual Downtown Raleigh percent increase in traffic was 0.14% year over year from 2003 to 2017.

I got these stats this morning and shared them early in the Q/A tonight at the North Central CAC meeting regarding the Zimmer project at Peace/Capital and there were no traffic questions after that. The only questions that preceded my stats was a lady wanting to know what the ingress/egress was and how cars and buses would interact with the building.
If anyone is interested in hopping on my Twitter traffic poll:
It's already making my point for me. NIMBY voices complain about traffic in Raleigh but it's not downtown. It's at the beltway and further because those people HAVE to drive their cars. DTR mixed use isn't contributing but maybe nominally.
My only experience with rush hour traffic in and around downtown is mainly in the mornings as I typically take my daughter to daycare and then come back for work. When we have big conventions, Saunders is choked up a bit but that's really all I see. I've sometimes seen slowness on Capital southbound during rush hour mornings but I imagine that's only for an hour or so.
DTR doesn't really have that gridlock that other cities have. Last I was told, the DTR office market is only 10% of the Triangle commercial real estate market. RTP is the juggernaut and has the most pull in terms of traffic. This gives Raleigh the benefit (disadvantage?) of having reverse rush hour traffic.
My coworkers who live in Cary and come to DTR say they have no issue with the traffic because they are going in the opposite direction. FWIW, we have plenty of capacity for incoming commuters at the moment, more so when BRT and commuter rail start rolling.
Let's build on that asset!
I would also add that maybe, just maybe the added fact that DTR doesn't have a freeway running through it helps with this statistic?
I would say "other" as US-1-64 headed into Raleigh in the am, everyday and if it rains or has an accident. You can be prepared to sit and hope that you have enough gas…


40 from RTP during rush hour(s). So much worse than when I moved here, but still only takes me 15 minutes on a bad day
DTR is so dang tiny. There are no issues with traffic in downtown proper. There are only a few high density streets and if you close your eyes for 5 minutes you will be through the city end to end. If you live and work downtown you have it made. It's only he people that come in from 2 miles on out that have some issues.
If you want to spend money do it on the airport. That place is exploding and it's a nightmare. The qty of people coming in and out in a day is 3 times the size of Raleigh's downtown work force.
I have never in 15 years had any issues coming and going into this miniature downtown except New Years and parades.
All I see outside of rush hours are empty buses.
Anyway, best little city in the world.
If I'm going on 540 in the mornings or evenings I see some pretty frequent traffic
When I first moved here in 2013 I stayed with my girlfriend(now wife) in Wakefeild and remember taking 540 to RTP for an interview. Might have been the worst traffic I have experienced in my time hear lol. I got a job on Centenial campus and started to dislike Capital Blvd. But really the bad part was between 540 and 440, so I quickly moved to Ashe Ave ITB to get away from that crazyness. This whole thread from @OakCityDylan is so good because it gets people to step back and think… about where traffic is bad and what actually causes that. Ends up most places traffic is bad don't have a lot to do with downtown.
My poll on Twitter, while isn't getting thousands (or even hundreds) of votes is painting the picture I expected. Raleigh traffic has nothing to do with downtown really. You might not like the frequent stoplights driving around or through downtown but it's not "traffic". Also, we could do more to discourage people using McDowell/Dawson to get from DoNo to DoSo, we'd be even better off. I used to work in North Hills and lived in the Holly Springs area (Middle Creek). Often times Waze would have me driving through downtown as the fastest route. Yet another indicator the traffic was on the beltway slowing my route options and driving through downtown was less congested.
A dream of mine for Raleigh would be to reduce car travel lanes on ITB Glenwood Avenue (70) and Capital (401), flipping them for transit and diverting car travel to 440. With the old 440 (western parts) being upgraded, there is no better time than now to reduce the number of vehicles going through the center of ITB and diverting it around the center city. I mean, when you stare at this map, you can see the flows happening.
More pedestrian, transit, and bicycle friendly movement within ITB and the dedicated highway lanes are for fast-moving and heavy (trucks and delivery) vehicles. This would be an amazing "in our lifetime" kind of change that could slowly start to take place.
We would need very strong advocates for this who would be willing to work with and basically project manage NCDOT in order to make that change.
How about 3 or 4 roundabouts along both McDowell and Dawson coming through downtown.

You know that would piss some people off but would work miracles for walkability!
For sure! I mean, if I-540 finishes even less need to pipe so many cars through downtown. I bet the numbers might naturally decline if we did nothing.
Oh yeah, we have a thread for ideas like that too. McDowell and Dawson Streets
Not on twitter (I guess I'm too old

) I can only comment on what I see firsthand in my daily commute. I live in NW Raleigh, but commute to just south of the airport in Morrisville. Mornings aren't really an issue since I avoid 540. However in the afternoon I have kid duty, so I have to take 540 from NC54 to Six Forks every day. I-40 east (sometimes west) going under 540 is always really bad when I leave the office. The daily brake tap/crawl usually begins just before Lumley Rd, and it takes around 20 mins to get to the Leesville exit. It is 50/50 as to if it goes back to "normal speed" or if you continue to crawl farther east bound on 540 towards Creedmoor and Six Forks. Before we moved, my commute continued on 540 to Capital to just north of Durant… that insanity is what convinced me to move across town and closer to work.
I would say that the collective "we/everyone" has to decide where to put our very valuable time. And trust me, it's not in Twitter…Lol