Removing the word "just", and substituting Harrington for Glenwood. I agree.
Except that south beach sucks. But Glenwood has definitely taken a turn in that direction
The west side (Bay side) of South Beach is a model for what Raleigh's urban neighborhoods could be. It's not all hotels, clubs, and tourists in South Beach. In that regards, I agree that Glenwood South and greater Smokey Hollow should aspire to be THAT South Beach.
The future Five Star building is coming along nicely and actually already has tenants in the back part of the building.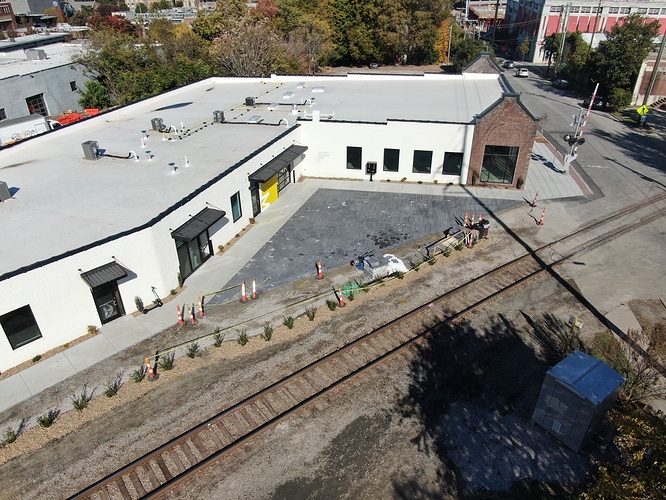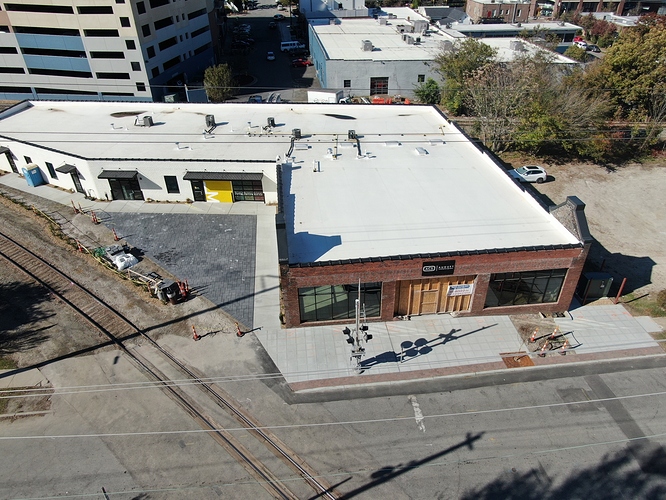 I'm loving that the old parking lot area is now an outdoor courtyard type space. This could be a really cool place when all is said and done.
Wondering what type of barrier they will use to keep people safely away from the tracks. The CSX freight trains go by (albeit slowly) their triangular patio about 8 times a day, including through the night.
You clearly didn't see the row of bushes that'll be knee height with a couple of seasons worth of growth.

There's a restaurant in a restored freight house in Virginia that has an active rail line at the edge of the parking lot (which is gravel) and all they have is a sign. Apparently the trains take out a car every now and again.
Seems there are still a lot of people that do not understand when you see train tracks there will normally be a train coming before to long. Guess what even a slow train takes a long ways to stop.

Hey, it works in video games. Small shrubs can stop a car in its tracks in GTA!

ABC11 reports Jason Howard from The Cardinal and Atlantic Lounge is opening Friendship BBQ in the same space Five Star is moving to.
Karla and I were just poking our head inside this space and it seemed small for just Five Star but for 2 restaurants??


Edit: already reported on the BBQ thread by @Drew: DTR Barbecue Thread
I think that





is going into the section that's closest to West. I suppose that this BBQ joint will go into another section of the building.
Roof work in the building kind of across from the new





(approx 310 West St) on the SE corner of West and North. Who knows why?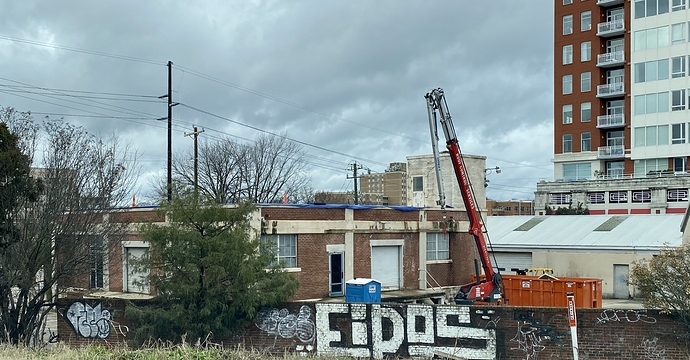 Having looked in that building before, the roof had collapsed and there was serious damage inside. Any work would be an improvement.
TTA owns this building I believe
We literally just ran by this an hour after you posted and I was wondering the same thing. That whole block should be demolished and replaced with something nice.
310 N Harrington Street is shown to have been owned by Marble Empire Properties since 2004. Prior ownership was David Allen Marble before moving out, and then it was a Standard Oil facility. If there's been any change in ownership, WakeGov hasn't updated things.
And, it's linked to Greg Hatem.
Empire Properties owned it last I knew. At one time they had renderings with like a 10 story residential tower but really it seems like Greg has retired from new projects and is just enjoying his life in his magnificent historic house in Oakwood.
Great! I thought TTA owned it but Greg is probably getting ready to "activate" the building since 5 Star is getting ready to draw people from everywhere…including myself!!
At present, the only thing in the way of getting bulldozed in the future from SEHSR would be properties on the other side of West Street abutting the NS tracks from Glenwood Yard. A quick walk up the street via imaps shows them to all be in private hands at the moment (and not John Kane's).