Ahhhhh, thank you. However, now that I have been enlightened, commuter rail seems very complicated and politically improbable.
Not improbable. But, the ridership numbers and costs have to mesh with the rules the feds have in place. And, there has to be support from all of the stakeholders before proceeding.
(It wasn't until after the fact the GoTriangle revealed the problems that they were having with the NCRR, Downtown Durham, and Duke in trying to get DOLRT going. If that had been disclosed, the project would have died a public death much earlier than it did.)
If it was thought that this third effort was a failure at the start, GoTriangle would have said so. End of story. Ride yer BRT's and wait for autonomous Lyfts.
And I would add that we need the "public" and "Govt" buy-in like we have never had.amen!



What's that I hear, is that, could it be, why yes, it's… Bernie Sanders…Lol

You know what bothers me about rider projections? I don't trust that they take into account that the built environment around stations would need to fundamentally change, and that that change is likely to be driven by the demand of wanting to commute without a car. This demand should only increase when rail is operational. If we presume that there aren't going to be fundamental shifts in how people commute, and if we resist the necessity/demand to have these nodes densely developed, then commuter rail will surely fail.
Well (coming from Durham after rehearsal tonight), the developers have gotten it. There has been an explosion of dense housing here which is all within walking or biking distance of the transit node.
This was a ghost town when i came to Duke for graduate school in 1992.
Now @orulz, from your observations with GoTriangle's proposed 8-2-8-2 schedule, what kind of dwell times do you see on either end of the line?
Or, for that matter, where would you put the storage and maintenance yard?
This was the representative schematic for the maintenance operation in TTA's Regional Rail proposal…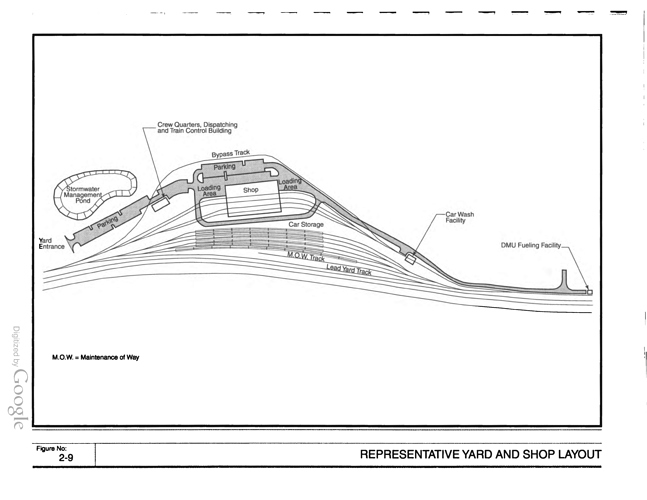 I had to go back and look up the options (notated by the triangle) suggested by TTA in the 1990's…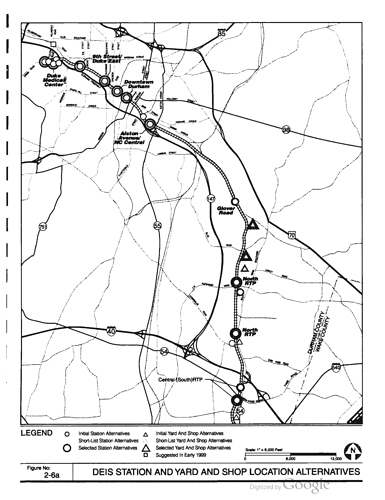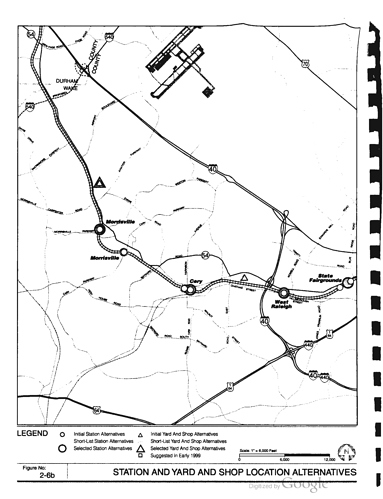 Where would I put the yard, eh? Honestly I am concerned that I know just enough about this to be dangerous - to seem like I know what I'm talking about, while missing some of the important subtleties that a real pro would spot in a heartbeat. But I'll have a go at it anyway.
Let's start with this: how many trains will we need? To figure that out: According to the MIS, run times for the entire line are predicted to be 65 minutes. Given 25 minutes to turn the trains at the end of the line (which is, honestly, excessive, but oh well I guess) this means that GoTriangle would probably need six trainsets for half-hourly peak service. Probably a 7th to have a spare.
Avoiding deadhead moves, or moves that are technically revenue service, but aren't very useful and serve mostly to position trains (examples: an eastbound 4:30am train from a depot in Morrisville, to the end of the line in Garner, in order to get there and turn around for a 5:30am westbound departure, or a 10:00AM departure from Garner that terminates at the depot rather than running all the way to Durham) is a good way to operate efficiently. Also, not having to turn trains in order to get them ready to make their first (useful, full-line) runs will also increase efficiency. So an optimal configuration would be to have a small-ish yard past the end of the line at each end. These yards would each need to store three trains overnight, and (with an 8-2-8-2 pattern) two trains at midday. Maybe add a fourth track to each for storing the spare.
They would have to be secure, and they should have a crew base, as well as facilities for cleaning the inside of the trains and refueling them, but that's it. For heavier work like inspections, scheduled maintenance, and/or repair, GoTriangle should probably try to avoid building something themselves, if at all possible. The best soluton IMO would be to work something to share the facilities and maybe even staff at NCDOT's Capital Yard - contract with them and cycle the commuter trains through there as needed. If they have to pay NCDOT to add a bit of capacity, then fine; but it saves the trouble/expense of finding a location and buying the land for a dedicated facility when it's probably not needed for the service levels being planned right now.
Back to service levels, the reason I am not a fan of the 8-2-8-2 pattern, beyond that it provides poor service quality, is that it is inefficient. It basically means that four of the six trainsets needed for revenue service will make just two runs (one round trip for each peak period) per day. You're spending an enormous sum on trains and most of them are just sitting around in the yard for a huge part of the day. Assuming one spare, if I'm doing my math right, that's a utilization of 57% - which seems very low for such an expensive capital resource.
Not to mention that split shifts are generally disliked by crews, and therefore harder to staff, which means you have to pay more to fill them; and then, the best shifts are generally claimed by the operators with the most seniority, and you can't pay them less, so you wind up having to pay more overall.
A split-shift operator would want to have the break between their shifts at the place where they started, so they'd have access to their car when they're not on the clock. So therefore, a split shift operator would run a single round trip from Garner to Durham and back (or vice versa) during each peak period.
If you have to pay for the trains, you have to pay for the yards to hold themm and you have to pay for the track and wayside infrastructure that it takes to run half-hourly service. If you're going to spend that much on infrastructure, you had just about might as well run half-hourly service all day, at least during the midday. A base:peak ratio of 2:1 might be defensible, but a 4:1 ratio that an 8-2-8-2 plan would suggest just seems… egregious, unless I'm missing something.
@dbearhugnc, what do you think would be best?
At one time, weren't the plans to locate the main maintenance facility along with one of the layover yards in Garner, near Greenfield Parkway with the other layover yard located in West Durham?
@orulz You popped that out a lot quicker than I expected. A lot of really good insight into the human resource side of the question that I didn't have in my noggin.
My thoughts on the maintenance facility start from the original TTA Regional Rail proposal. The three properties suggested in the FEIS (Final Environmental Impact Statement) were all in the middle of the system. And, as you mentioned, there was going to be a lot of non-revenue movements to start each day. Twenty years later, those parcels have since been developed. So, they're off the list for consideration.
Then, I went ahead and cribbed some stuff from Orlando SunRail's supplemental documentation. They are now operating Phase 2. The Vehicle Storage and Maintenance Facility (VSMF) is located in the former Atlantic Coastline's Rand Yard in Sanford FL. It had been largely abandoned and used for primarily for freight car storage.
All fueling and car maintenance happens there within a fenced off section of the yard.
Since reactivation, there have been quite a few neighbor complaints of noise coming from the yard. Various attempts at sound abatement have not proven to be successful or satisfactory.
There is now a secondary yard at the other end of the line and adjacent to Poinciana Station. It appears to be used primarily as a layover yard, and is designated as their VSLMF (Vehicle Storage and Light Maintenance Facility).
This layover yard also appears to be well-secured with perimeter fencing.
So, going back to GoTriangle Rail, where would I put the maintenance facility?
Using Google Maps, four clusters pop out.
The first is Norfolk Southern's East Durham Yard. I'm not sure how much capacity is available there, but it is an area that has had a railroad presence for many decades.
Secondly, and not too far away from East Durham would be within the wye going from East Durham to Joyland Junction, and then on to Oxford.
The third possibility in this proximity is the CSX's Durham Yard in east Durham, but west of the Durham-Oxford wye which was originally used by the Seaboard Air Line (coming down from Henderson), the Durham & Southern (coming up from Apex), as well as the original Norfolk Southern (coming up from Bonsal).
All three of these sites are directly on the NCRR's main line, and they would be my first choices for primary maintenance and fueling.
I did consider the Cargill site, just south of Downtown Raleigh. But, it's constrained on the eastern side with no good entry/exit. And, it's in the middle of the picture. So, there's a lot of non-revenue movement going on which probably knocks it out of contention.
The same reasoning goes for SAL/CSX Capital Yard or NS Glenwood Yard. They are in the middle, but either might be recruiting for mechanical maintenance. Plus, shunting a lot of traffic through Southern Junction just doesn't sound to be too logically feasible, creating a definite choke point.
My other clustering is in Garner. There is undeveloped land adjacent to the crossing with Jones Sausage Road. Being next to a school probably knocks it out of contention as a primary yard, but it could still be used as a layover.
There is another possibility west of downtown Garner, but it would require purchasing and removing three businesses.
I'll throw this in from SunRail…
MAINTENANCE OPERATIONS
This section presents maintenance operations of the Phase 2 South Locally Preferred Alternative (LPA) Project.
Revenue Equipment Maintenance
The Operations and Maintenance Contractor is directly responsible for all maintenance and servicing of revenue vehicles including: preventive maintenance, corrective maintenance, cleaning and servicing, and major campaigns. The Operations and Maintenance Contractor has developed an Equipment Maintenance Plan that specifies the responsibilities, maintenance activities and maintenance schedules. The Equipment Maintenance Plan is comprised of a Preventive Maintenance Plan, Corrective Maintenance Plan, and Cleaning and Servicing Plan. Florida DOT's Chief Operating Officer is responsible for overseeing the Operations and Maintenance Contract and performing on-site inspections and reviews.
The primary objectives of the vehicle maintenance program is to:
Maximize the safety, comfort, and convenience of passengers and employees
Preserve Central Florida Rail Corridor (CFRC) assets
Protect property and equipment
Minimize system downtime
Minimize operating costs
Railcar Maintenance Program
Elements of the vehicle maintenance program include preventive (scheduled) maintenance, corrective (unscheduled) maintenance, routine cleaning and servicing, and major campaigns to correct component failures. Train failures that require maintenance include break-downs of locomotives, cab cars and coaches due to engine failure, pneumatic system failure, other mechanical failure, electrical rotating machine failure, other electrical apparatus failure, and other failures that prevent operation.
Vehicle maintenance program elements are described below.
Preventive/Scheduled Maintenance
The objective of preventive maintenance is to detect and correct potential problems before they cause a vehicle to fail in service. Preventive maintenance practices also enable servicing tasks that require lubrication, measurement, or adjustment at regular intervals. Preventive maintenance is a program of progressive, scheduled inspections and servicing.
The Operations and Maintenance Contractor is required to submit a Preventive Maintenance Plan (PMP) that specifies responsibilities, activities and schedules for scheduled maintenance. The PMP is consistent with the maintenance guidelines provided by the Original Equipment Manufacturer (OEM).
The Preventive Maintenance Plan complies with all requirements of 49 CFR, Part 229, Railroad Locomotive Safety Standards. The Operations and Maintenance Contractor is required to conduct daily inspections, 92-day inspections, semi-annual inspections (184 days), annual inspections (368 days), and biennial inspections (736 days).
Corrective/Unscheduled Maintenance
The Operations and Maintenance Contractor is required to submit a Corrective Maintenance Plan that specifies the responsibilities and performance of corrective actions and establishes guidelines for removing trains from service. Corrective maintenance restores a revenue vehicle to service following a failure to a system or component. Corrective maintenance consists of troubleshooting, repairing failed equipment, and returning the equipment to service as quickly as possible. Corrective maintenance is addressed as a result of defects noted by Train Engineers and Conductors, defects found during inspection, vehicle failure in service, and accidents. In all cases, risk is assessed and a decision made to repair immediately or log for repair during the next scheduled maintenance activity. All such occurrences are logged on the computerized vehicle history record.
Cleaning and Servicing
The Operations and Maintenance Contractor is required to submit a Cleaning and Servicing Plan that specifies regular cleaning and servicing responsibilities, activities and intervals. The following is an overview of the expected cleaning and servicing program. Daily light servicing will be performed in the Sanford VSMF and the Poinciana VSLMF following return from evening revenue service. This level of servicing is comprised of litter and trash removal as well as graffiti inspection. Graffiti is brought to the attention of the supervisor on duty for corrective action. Cleaners sweep floors, remove graffiti, remove light stains or spills, replace torn or defaced upholstery, inspect safety seals, perform a general interior and exterior inspection, and replenish passenger literature racks. Defects beyond the scope of the servicing staff are brought to the attention of the supervisor on duty for corrective action.
Comprehensive interior cleaning is performed at periods not to exceed 30 service days. All interior wash activity is recorded on a work order and entered into a maintenance management information system (MMIS). Additionally, the supervisor on duty is responsible for a follow up quality check prior to the vehicle's return to service. Exterior washes are performed at least twice a month at the Amtrak Sanford Facility following return from evening revenue service (weather permitting). Hand scrubs are performed at least bi-annually to address areas of the vehicle that are not cleaned by the automated car wash.
Fueling
Locomotives will be fueled at the Sanford VSMF and the Poinciana VSLMF by a contract supplier. The fueling is accomplished at the VSMF yard and on the storage track at the VSLMF. These stations are accessible by adjacent roadway for fueling locomotives from tanker trucks. Locomotives are fueled at regular intervals to be determined by usage data gathered by the Operations and Maintenance Contractor during startup testing.
Unfortunately, a lot of the Greenfield Parkway area has been developed in the past 20 years, making its use for layover a little tricky.
Now @orulz, it's on to scheduling. Using Orlando SunRail's operations as a rule of thumb, they operate 48.6 miles through Volusia, Seminole, Orange, and Osceola counties, centered on Orlando with 16 stations using low-level boarding platforms. The system occupies a former Atlantic Coastline track with an agreement in place that still allows CSX to run a limited number of freight trains along the line at night, although the majority of the freight traffic has been rerouted west to CSX's "S" Line.
They own 11 Wabtec MP32PH-Q locomotives which were rebuilt from Maryland Rail Commuter (MARC) GP40WH-2 units, operating at speeds from 30-79 mph.
These pull a fleet of 20 Bombardier Bi-Level coaches - 7 trailers and 13 cab-control cars, usually two at a time. Each trailer can hold up to 142 passengers, and each cab car can hold up to 136 passengers. Thus, they run in push-pull mode without requiring a turnaround. On average, there is a daily ridership of 6,362 passengers daily [Q1 2019].
The current schedule indicates that there are seven trainsets in active service on any given day, taking 90 minutes to run the length of the system. There is an morning-midday-evening schedule with 5 trainsets laying overnight at the north end in Sanford, and 2 trainsets laying overnight at the south end in Poinciana. The dwell time at the terminii is stated as 17 minutes. The line runs at grade with 126 grade crossings across the entire length given the flat terrain and high water table of Central Florida.
The majority of the peripheral system has Park-and-Ride lots…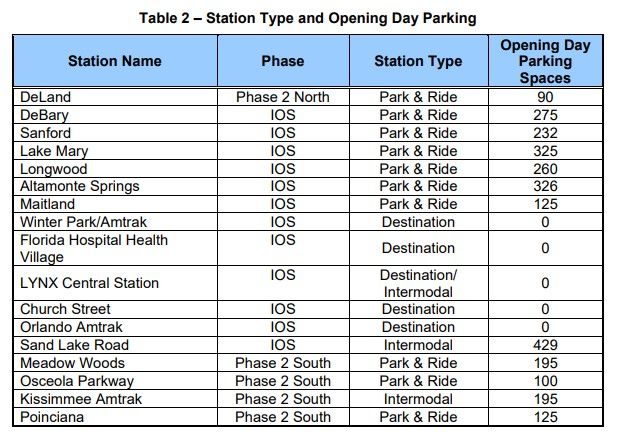 Here are the current boardings and off-loadings per station…
And, the current fares…
Finally, some clips of the system in action…
I was in Orlando (back home) a couple of months ago and I think they killed the weekend rides due to low adoption.
@OakCityDylan - Thanks for that perspective. There seems to be a lot of wishful municipal thinking going on, while hoping the development patterns follow suit to finally make it a viable proposition.
Looks like we can never escape this problem, can we

I was reading this, and our conversations on here about high construction/planning costs popped up in my head again.
You would think this is obvious by now lol…
The reason that China's economy has grown so quickly from one of the poorest in the world to the 2nd largest is because of… not communism, not authoritarianism, not central management, not a system free of corruption, not disruptive innovation- but unashamed copying of world best practices in everything.
The first step to success when you are behind the state-of-the art in anything is overcoming denial about it. Not until that happens, but soon as it does, then progress will come.
Having access to or stealing the technology and intellectual property is one thing but when you lack a democratic process you can build at will without having to deal with opposing points of view. Not sure if I'd be comfortable using the words 'China' and 'best practices' in the same sentence. Especially when it comes to infrastructure and city building.
And yes - China has progressed economically but socially and morally they are in crisis mode.
This is more of what I was getting at. Copying best practices around the world should be standard practice these days (and I personally think you're just running your businesses/projects poorly if you aren't…). If anything, that's the first thing I crossed off my list of "potential reasons why China does public transit infrastructure better than the US".
Other (transit-wise) developing countries like India, Brazil, Israel or Turkey are also actively hiring transit experts and consultants from Europe and elsewhere, but they're still not seeing the same exponential gains in new project openings. Doesn't that make it sound like China has a more systemic advantage?
Another article that made me think about this:
Not sure what to believe. But, it seems as though the central government is betting more of their apples into rail programs instead of to highway programs. Maybe it's more effective for the denser population. Or, it's a means to counter the carbon output. The WSJ is suggesting that it's like the FDR's Works Progress Administration during the Great Depression.
At what cost, though?
And, the Chinese central banks seem to be wanting to export that model of development outside of their borders.
So, I'll stop there as it's close to venturing off-topic. Back to building our little rail system.