Also, isn't the L the only new construction that Empire has delivered? They had proposed the Lafayette that fell through about a decade ago. (22 stories, 80 condos, 125 room hotel, 15,000 sf retail, rooftop pool & bar)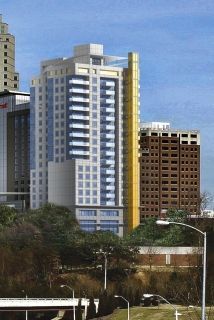 I wish they could get ahold of the Boyettes Automotive space. That is a nice corner cafe setup there. The warehouse district used to have many more small brick retail and industrial spaces, but Dillon mostly cleaned those out or ripped their faces off and and incorporated them into larger buildings. After the Clearscapes/311 space, it is my favorite remaining building.
I definitely agree. I could see them developing another rooftop space like they did with Raleigh Times.
I believe so. They also proposed a residential tower across from West Condos. David Allen Buildings There was a concept rendering at one time but I can't find it now. It was to be incorporated into the older structures site.
FYI, the Durham City Center old storefront facades were not salvaged. However they were completely rebuilt to match the old storefronts and they look amazing! (and probably better than if they had tried to salvage and work around the old facades)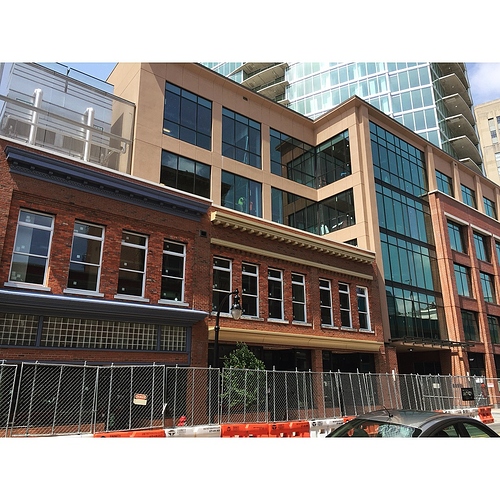 Nice.
However, a correction: Kane owns The L.
If you really think about it, historic rehabs are becoming harder to find forcing more creative (and frankly larger) uses in the ones we do have.
Unless Empire wants to become a landlord only in the future, they might want to start branching out into some new construction projects also.
Kane does? When did this take place?
I honestly think One City Center is a top 5 building in the Triangle, and I wish it was built downtown. I love the buildings going up in Durham right now.
That's because Durham has it going on! They are making moves and doing a great job!
Dunno. I've lived there more than a year and it's always been Kane.
Thanks for this photo. The way the tower steps back at that "historic" storefronts is the perfect solution for Raleigh's expansion in order to retain the charming sidewalk experience in key areas.
Austin Lawerance Partners is a pretty cool builder. They also did the Jack Tar Hotel reno, and are going to break ground on 5 points towers in Durham in 2020.
I wish they would build in Raleigh.
Interesting joe. I was so convinced that Greg Hatem built the L that I searched the property records. According to iMaps and the Register of Deeds, the owner is Concord-Empire Davie Street LLC. Gregg Hatem is the Manager of that LLC. Could Kane be the property manager? The only reason I delved into this is because I was unaware Kane managed property for which he did not own or previously owned. I'm curious. The Wells Fargo tower is being sold and Kane is taking over as the property manager. The buyer has not been revealed. My suspicion was that Kane was buying the tower, but now I'm not so sure.
So you're right. Concord-Empire is listed as the "lessor" on the lease.
However, it's managed by Kane.
Kane isn't buying the Wells Fargo tower, some RE Investor group form NY is, but they will the property manager. This does appear to be new space for Kane, managing properties that they do not own, but it would help them assemble large swaths of space for major corporate relocations…
The Deep South space and the spaces flanking Fiction Kitchen have all been boarded up and work seems to have started demoing the interiors. Mad Ethel's moved halfway up the block next to Madabolic (I sense a "mad" theme happening).
Does anyone know what Empire has planned?