I hope they keep that historical metal gate over the door.


I know the owners of this property. The family has been in the area for generations and they're very invested in the community.
I'm sorry but the economics won't work for a single story building on such a prime parcel. This needs to be 50 story luxury high rise with amenities and all that stuff that people require these days. I'm sorry, its just not going to work.
Thanks for the share! I've had my eye on what might happen to this building / property (sooo much green space…). If this shakes out the way it's conceived, there are some very interesting events and pop-up opportunities possible. Probably ends up earning its ROI on events but converting that building into a multi-form retail endeavor should be able to play well as this area continues to morph. Very cool to see.
FINALLY! Been waiting for that building to turn into something other than vacant for years
This just came out last week. Looks like They Lynde is ramping up marketing. Hope it works out for them. Here's the new you tube video.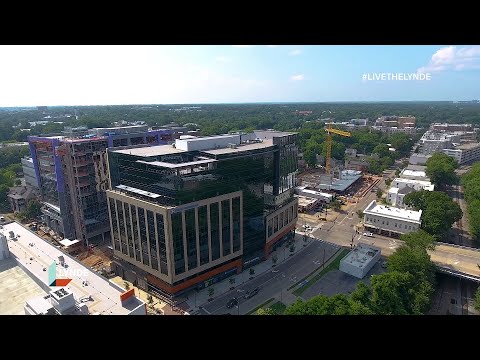 I can't get over the stick build. Doors are cool. Not going to get me over the stick build. And why do they keep showing One Glenwood? That's not even close to this development.
Stick build.

I'm guessing that's where the sales office is located?
Do you think that they are cutting costs so a stadium is also built ?
Perhaps.
Also @dtraleigh, this string should be moved over to the South Street Condos thread.
Those doors are indeed nice - For the cool price of $2K a linear foot…
You'll wanna be outside so you don't hear your neighbor through those stick built walls

I hear nothing at the Ware. Granted I have no one above me. Mostly stick built with good insulation. My neighbors and I have contests on how loud we can get to test. Unless one of us has construction like installing custom closets etc., nothing can be heard.
That's great info. Thanks for sharing…
However, the Lynde will have units above, correct?
Condos opposed to townhomes. So you will share a ceiling with someone's floor.
Remember when you're paying $500/ft for your stick built condo with impossibly tiny rooms, that you are paying for this sales center in one of the most expensive buildings in the city. They need to fix those plans instead of trying to dazzle us with expensive details.
Some photos of their plans that were just released. Upstairs seating looks pretty awesome. Raleigh desperately needs more rooftop restaurants/bars/venues imo.
Make the concrete block side elevation, behind the side of that front folded massing band, a controlled living wall and I'm all in with this design.
Not long ago, I wrote about an architect in Phoenix who also thought a no-amenities condo building aimed at entry-level buyers would be a grand slam. To find out how he did, you'll have to read the article

Condos have a higher price per foot than townhouses in part because the smaller unit means a much smaller denominator to divide by – while the common areas add to the numerator. (At least 10% of an interior-corridor building is common area, which has to be paid for but can't be sold.) Think about staircases: condo and townhouse buyers both pay to build them, but only the townhouse resident gets theirs included in their square footage. The numerator is also more expensive; mid-rise stick is 20% more expensive to build per square foot than SFH/townhouse, and has higher soft costs since a lot more of the design is customized. The Lynde had site contamination, and resulting grading work, on top of that, and now has to build a concrete garage to dig out of that hole.
Speaking of stairs, the core of the new-condo market is downsizing Boomers, who are trading down from big houses with lots of stairs. Those big houses, by virtue of being big, have big price tags, so the higher per-foot price matters less.
I talked to CityPort's developer a while ago; they were planning something similar near Meredith. The reduced parking requirement along Hillsborough is really crucial for them; drastically cuts back on concrete use.
Thanks for this!
I actually Zillowed the complex, and it's way more compelling and interesting than what's been proposed for The Lynde. Even so, I think that the remediation costs associated with that land could be mitigated if the city just allowed them to go taller and add more units to the project. Of course, the building would have to go concrete or steel, but that's not a bad thing in my book.
Yeah, I think that Phoenix project looks fantastic, but it won't be repeated because it didn't sell well. He got exactly zero first-time home buyers.
I think concrete/steel is a bad thing in your book, because it increases per-foot construction prices by another 50% or so. An update on this article I wrote a while ago: new high-rise residential suddenly started happening in my neighborhood, but only once prices rose above $700 psf.