done


had filled out the survey, by 2050 we will be riding like the Jetsons

I'll only be doing that if 80 year olds are allowed to pilot flying cars.
A "The small Spanish city of Pontevedra has reduced car use in its historic core by over 90 percent, and traffic in general by half…amasterclass in tactical de-vehicularization."
Lesson #1: Know Your Constituency
Lesson #2: Build Streets That Lead Nowhere
Lesson #3: Make Double Parking Impossible
Lesson #4: Accommodate Cars… Somewhere Else
Lesson #5: Put Pedestrians in the Street
Lesson #6: Treat Walking Like Transit
Lesson #7: Engage Local Business Owners, Don't Capitulate to Them
Lesson #8: Trumpet the Positive Impacts
Freiburg Germany is similar. Was there years ago in HS for an exchange. No cars in the city center. It's all pedestrian, bike and trams. I think they do allow service vehicles and deliveries but it's very limited in hours.
I'm imagining how much smoother everything would go if we had a light rail line or brt line as I'm sitting in fair traffic.
I hope they don't screw up BRT, the current service is subpar at best and it's almost a guessing game if they skip a schedule bus or not. Currently sitting at a bus stop for 30 minutes more than I should because the schedule is wrong on both Google and the official GoRaleigh site. Not to mention earlier today the bus didn't depart the station until 22 minutes after scheduled departure. Fix your service, GoRaleigh.
I'm really amazed at the transformation of Charlotte's South End District with their light rail. Accomplishing the equivalent of even just their original Blue Line LRT would seem miraculous for Raleigh but CLT has also built a huge North extension, built a streetcar line, and now about to build another East-West crosstown LRT line.
Raleigh should've started their project 10 years ago! Midtown East and Iron District would easily become Raleigh's version of Charlotte's South End (widespread mixed-use medium density and eventually 10-15-20 story high-density)!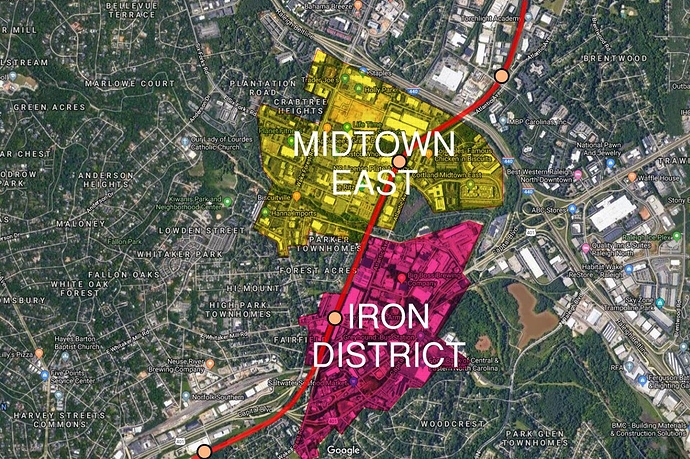 If you just discuss numbers and ROI you will not justify a light rail project for Raleigh. Image, attractiveness to future employer/employees, subsequent increased density, quality of life is hard to quantify
Second problem is that it's a long term project to build and even longer impact with increased density yet politicians are serving short term appointments
We need leadership with bold vision for projects like this and just make it happen
Amen, couldn't said it better myself.

Sometimes we have to push these idea's to the powers that be and show them a vision correct me if I'm wrong but won't we have commuter rail coming through some of these corridors? I can visualize all of this and it's freaking nice Lol.
I would like to add that giving the growth that Raleigh is having right now, any kind of rail should of been in the works 10 or 15 years ago, I can see a BRT line going through Midtown/Iron district as Raleigh continues to blossom. I know not everyone is a big fan of rail, commuter/light. If Raleigh went in the same direction as Charlotte,I believe people would and can get around a lot better. Just give it a chance for goodness sake and see.
Raleigh-Durham-Chapel Hill made it's pitch for LR at the same as Charlotte. The Bush Administration approved funding for Charlotte's. Triangle Transit Authority lost out when our Senator Dole R-NC, supported Charlotte and dropped her support for Triangle LR. She was also former US Secretary of Transportation. She caved. We lost 15 years+.
Maybe if this had been in the works Syneos Health (formerly INC Research and inVentiv, ~25,000 employees) would've stuck around instead of moving their HQ into Morrisville.
Dole, though she graduated from Duke, is more of a western NC native, and was out of touch with NC when she was elected: having not lived in the state for decades before she decided to run for Senate.
The Triangle was also arbitrarily split into two MSAs around that time. Convenient way to reduce the priority for matching federal funds for transit in the region.
That's a good point. Diminishing the Triangle statistically has its consequences.
No doubt. Durham's leaders hosed themselves when they campaigned to separate their metro region from Raleigh's. In fact they screwed the Triangle region in their vain attempt to escape Raleigh's shadow.