Looks like the 222 Glenwood parking garage is getting a makeover.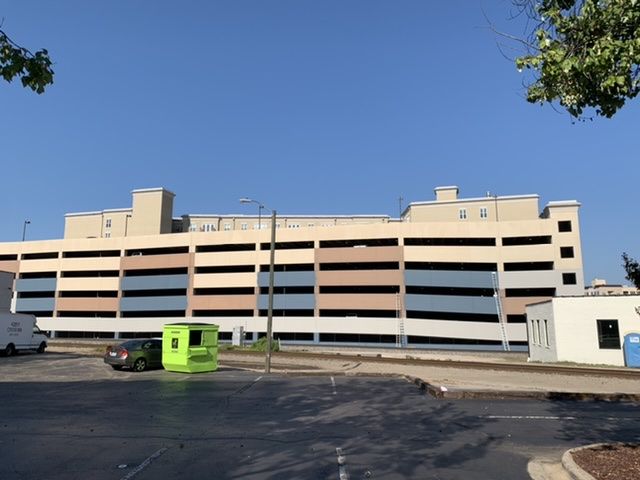 I was just commenting how dated and ugly that looked. Glad to see it looking a little fresher. I wonder if the new Five Star location building renovation had anything to do with it.
Can imagine at the time nobody expected there would be too many eyeballs staring at it from the east. Times, they are a-changin'
Guess that is not in spirit of Bob from 60's but yep things are changing in Raleigh even if there are people that hate it.
At least they're doing something, but in my eyes it's just lipstick on a pig.


I have a good friend who lives there. This work will continue to the whole building eventually. This is more about aging stucco than the aesthetics, they held an HOA vote a few months ago to approve it.
Why not partner with Raleigh Murals Project to do something actually fun and vibrant on the side of our parking decks.

So…tearing it down? IMO worst condo building in the city…from a point in time when people were buying most anything that went up. ( I know this is just about the deck but still…)
I remember seeing the initial marketing sketches of 222 that were done to look like hand drawn renderings. After seeing the finished product, I understood why they used those sketches.
West and Glenwood should be our new residential district of just high rise apartments and hotels, like a south beach
Removing the word "just", and substituting Harrington for Glenwood. I agree.
Except that south beach sucks. But Glenwood has definitely taken a turn in that direction
The west side (Bay side) of South Beach is a model for what Raleigh's urban neighborhoods could be. It's not all hotels, clubs, and tourists in South Beach. In that regards, I agree that Glenwood South and greater Smokey Hollow should aspire to be THAT South Beach.
The future Five Star building is coming along nicely and actually already has tenants in the back part of the building.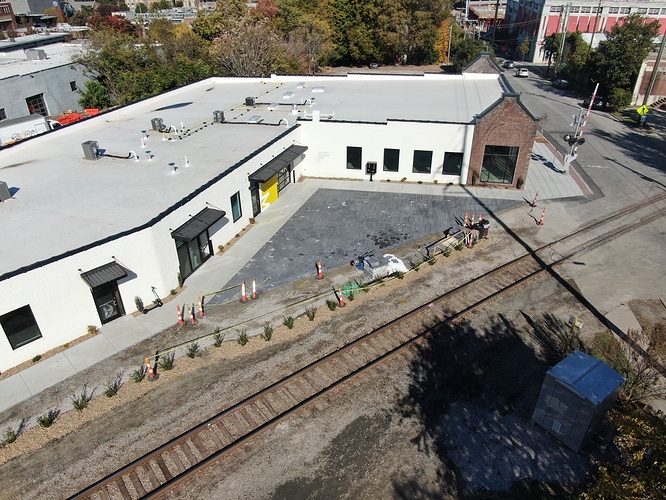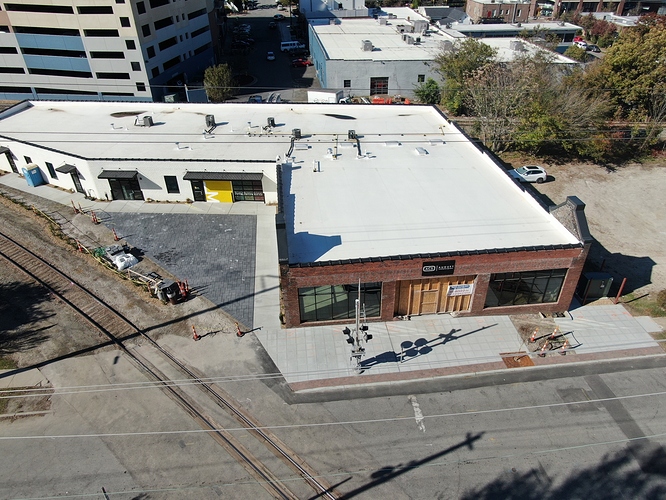 I'm loving that the old parking lot area is now an outdoor courtyard type space. This could be a really cool place when all is said and done.
Wondering what type of barrier they will use to keep people safely away from the tracks. The CSX freight trains go by (albeit slowly) their triangular patio about 8 times a day, including through the night.
You clearly didn't see the row of bushes that'll be knee height with a couple of seasons worth of growth.

There's a restaurant in a restored freight house in Virginia that has an active rail line at the edge of the parking lot (which is gravel) and all they have is a sign. Apparently the trains take out a car every now and again.
Seems there are still a lot of people that do not understand when you see train tracks there will normally be a train coming before to long. Guess what even a slow train takes a long ways to stop.

Hey, it works in video games. Small shrubs can stop a car in its tracks in GTA!