I broke some laws-in Dix Park 2 years ago on the big snow day. I am an idiot.
oh yes! Maybe we'll have some snow and can get some Dix sledding pics up on here!
City is advertising for RFQ packages for a consultant to conduct an 18-month planning study for the "Dix Park Edge Area" https://raleighnc.gov/projects/dix-edge-area-study
Haven't there already been studies, plans, presentations, guidelines, ideas for this area / gateway / corridor?? Raleigh: The City of Studies.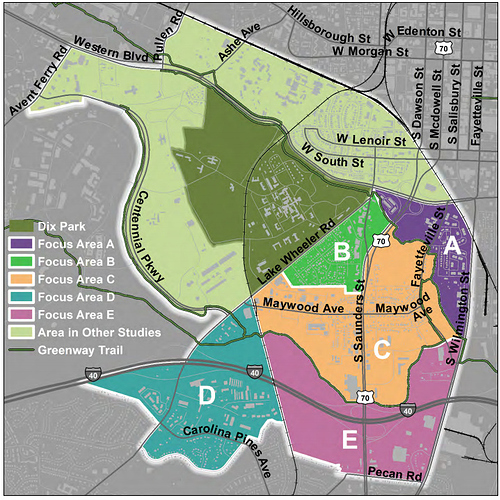 Crowder worked that in to the last budget. Basically, it came from a desire to study the park's impact on the surrounding neighborhoods from a gentrification, traffic, etc. point of view and what options the city has.
good lord. We are going to 'study' the park to death.
Of course its going to help gentrify (ie: improve) everything around it but its mostly private property or owned by the State (which isn't going to develop low income anything) so why does it matter? Surely the new council can find a better use for those funds and maybe we could actually start doing something on the park…maybe before the end of this new decade perhaps?
Maybe community.dtraleigh should form a consultant division. Seems like all their focus questions have already been discussed forwards and backwards here. I bet this group would come up with some good ideas.


Yah I mean what do they expect to figure out with this study? Property values will increase, traffic will increase, the area will become more desirable…? And those things are going to happen anyway because this area of the city is growing without any improvements to Dix.
The park planners conducted traffic studies and made recommendations for realignment of roads to help handle increased traffic. Crowder and the rest of the "Save Dix Park" crowd didn't want any private development in the park to help the city raise funds for building the park, but that private-public partnership along with increased prop values is exactly how the could creatively raise funds for subsidized housing and bike/ped infrastructure.
Look: the master plan already spells out the traffic improvements! Geez, we also have to study the multi-use path before hiring civil to engineer it even though the city paid a world renown landscape architect to conceptualize it. This one does seem superfluous…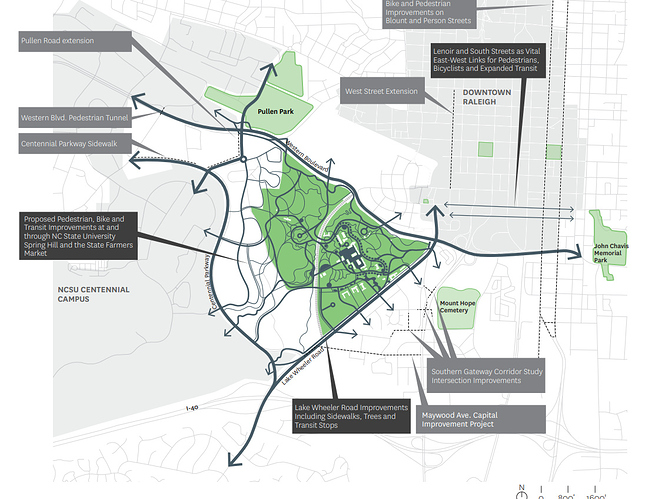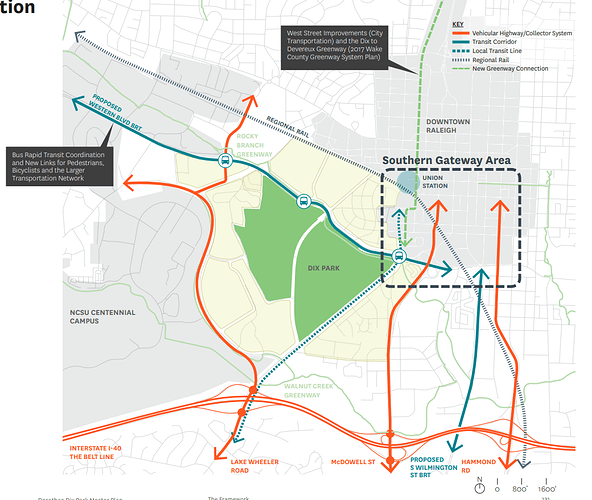 After 18 months and 6-figure money this is what it'll say:
Area A: already built-out. do nothing.
Area B: let people build.
Area C: let people build.
Area D: single-family houses ok.
Area E: let people build.
Mike - where do we send your check?
Just dreaming and not the purpose of the study, but I'd like to see Lake Wheeler Road rebuilt similar to Centennial Parkway with center island, wide sidewalks, bike lanes all the way to Tryon Road.
Agreed. I'd love to see that. And how 'bout throw up some Jersey barriers (or something quick & cheap) to protect the people like me who are already biking/walking/running across the damn Lake Wheeler Road bridge over I-40?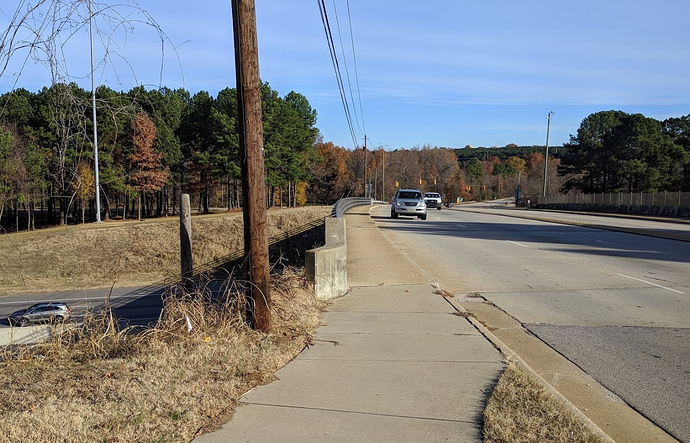 Who would let their kids ride their bikes over this bridge to get to the greenway/farmer's market/Dix?
God that circular parking lot in the middle is so asking for a space-needle like viewing tower to replace it.
That eventhub was always a conundrum throughout the planning process. I don't think anyone on the work groups fully grasp why they felt it necessary to include a circular parking lot in the center of the central loop in the park
The landscape architect actually recommends that the centennial parkway lake Wheeler interchange be completely reconfigured so that the exit off of 40 Directs cars on to centennial parkway, keeping lake Wheeler a low-speed multimodal corridor. they basically want to discourage people from using lake Wheeler as an access from 40 into downtown, which makes sense considering that will be the main entrance into the park with lots of bikers and pedestrians. Everything south of centennial and lake Wheeler intersection absolutely should go the route you're suggesting. But alas, that is a state-maintained road
Try walking across there at 5:00am in the morning on your way to work…I did for a Year along Lake Wheeler road across that Bridge over 40
Man that is rough. I have biked over that bridge many times and I'm still not sure if it's safer to try to stay on the sidewalk or to just say f it and pretend you're a car
I can't imagine being awake at 5am, much less walking down a street on my way to work!
It would be nice if one of the trails at Dix Park was lined with hundreds of oak trees that are expected to grow more than 70 feet+. That would be an appropriate and iconic feature for a park owned by City of Oaks.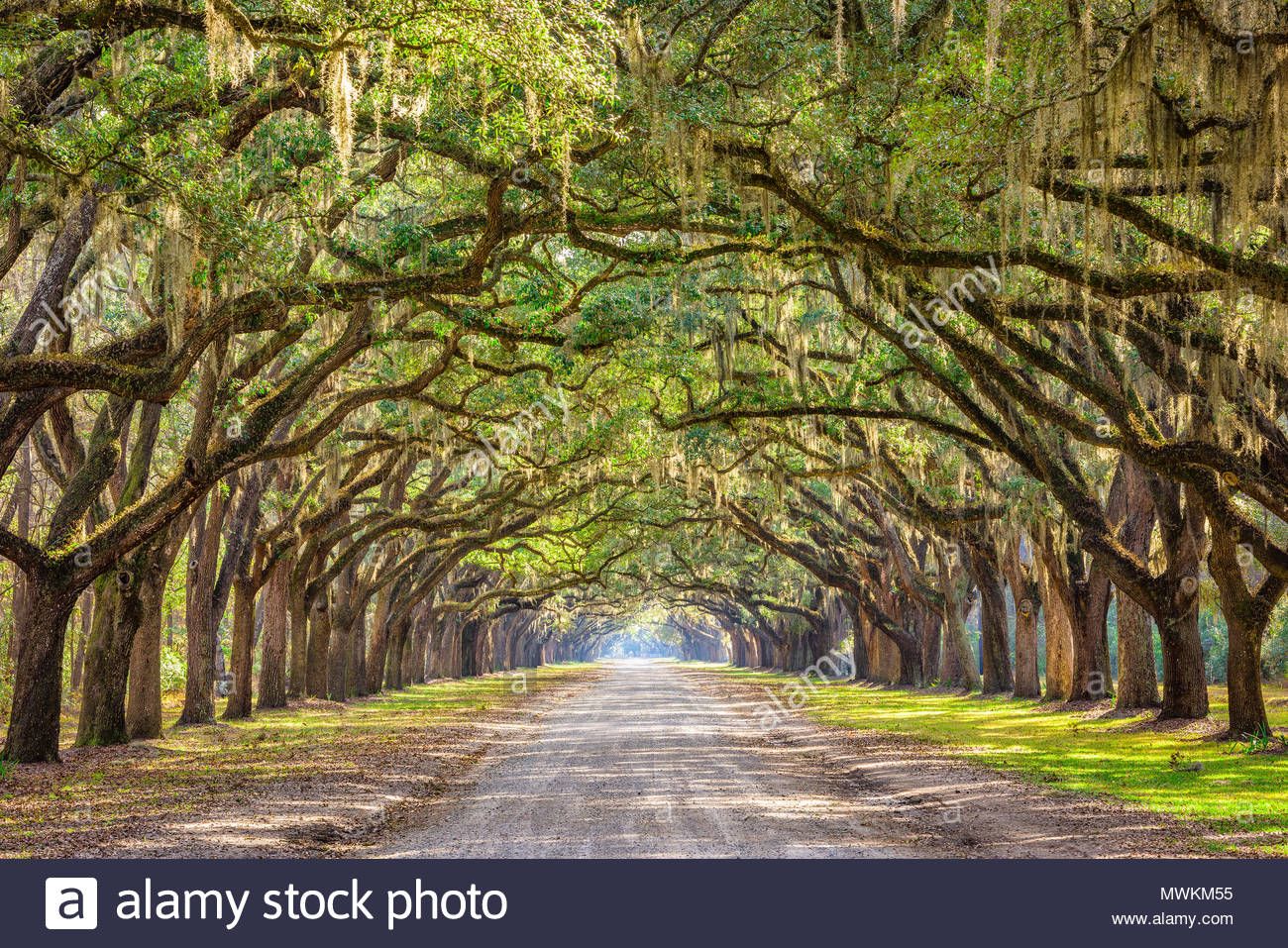 The Willow Oak that was cut down at Nash Square was 90 feet.
Is that Colgate university?
I don't know I just searched oak tree trail on google images.