"If this is another Cornstone, I might throw up" LOL! Me too! Worst part of Glenwood!
Yes and that even used to have a tower in the front center. Also the Audio Exchange building next to Dram and Draught is still essentially a house.
Good call. We can track the Vickers and Ruth work here including any other additional renovations that take place. These seem to take place pretty often.
According to ITB insider, renovations have begun on the former Clark Art space for the new "Tin Roof Restaurant and Bar"
"the project involves a 2,316 square-foot second-story addition and a change-of-use renovation to the 5,210 square foot ground floor"
https://www.itbinsider.com/development-beat-montfort-hall-updates-tower-planned/
It's always good to have another live music venue regardless of it's size.
I'll try and see after work how far along the renovations have progressed.
And they put a new roof on it a few weeks back.
I've always thought that this space would make an excellent dining and entertainment venue. I can't wait to see what they are going to do with it.
I've felt the same about the grouping of buildings across West from these.
The parking lot in the middle of this is screaming to be made in to a patio.
Bar/dog park/food truck parking. Something along those lines.
You could totally squeeze some food trucks or a mobile retail vendor in here.
There was a 2007-era Empire Properties proposal for that spot.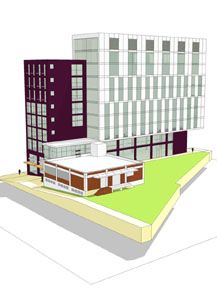 Some people really seem to hate Hatem and Empire. I think they do OK at especially renovations, but they're not as adept when it comes to new construction. Hatem is not exactly Daniel Levine (of Charlotte fame) but they do have lots of property scattered all across downtown that they have owned for years and don't seem to be doing very much with.
Ugh, you're right, this is an Empire property. Which means it's going to sit as-is for at least another 10 years.
Not 100 percent sure, but I think GoTriange owns that land now. Future train station.
Nope, Empire still owns it. GoTriangle owns the land across the tracks from here.
Kane is the only in state developer that develops beyond 7 story stick building. Sandreuter, Hatem, Highwoods just talk and speculate on appreciation
Kane is definitely the most active, but Andy Andrews at Dominion Realty Partners did Charter Square and has FNB under construction. Those are both nice projects.
Construction started on the tin roof bar on Glenwood. Saw workers on the roof as well prepping for the second level addition.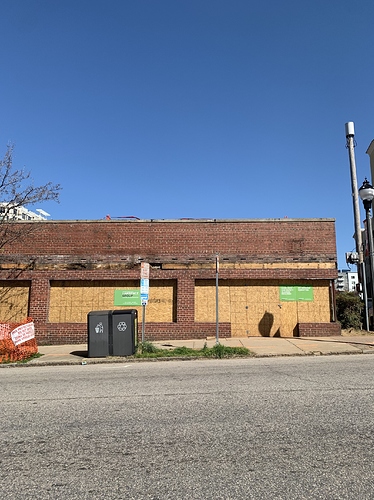 While I am very glad to see construction starting, thank you for pic posting…I am surprised that they didn't add other level/s to this project…