Time to move IBM-RTP into Downtown Raleigh!

Talk about the need for more towers downtown!
One or Two Towers would't hurt Raleigh.
Some tidbits about Redhat's office space needs in downtown.
Recently, her team on the eighth floor saw renovations that provided for more workspace – and Red Hat is taking it floor by floor to find additional places to house new employees.

Alexander shied away from questions about when, exactly, that "magic" might run out, forcing Red Hat to examine other real estate options.
They already have 2,200 employees in the their tower. When and where will they expand?

Indeed, that was my question as well reading that story in the N&O.
So they are putting 60 work positions in new space to support 90+ workers. What happens when 65 come to office to work on same day.
Is the IBM facility in RTP at capacity?
I believe they use hot desking so if you have no desk assigned for that day, you work remote. (as in from home or from the office "collaborative" spaces)
I searched around but couldn't find a better thread to add this post, so it's here in the Edison Tower thread.
Maybe we need a 'Redhat expansion plans in Downtown Raleigh' thread. Assuming IBM doesn't do something disruptive, one would expect Redhat to have to add people outside their current tower within 5 years.
The 'City Center Parking Garage' next door would be a great expansion site right next door, but it's not built to support a structure on top of it. At least as far as I know…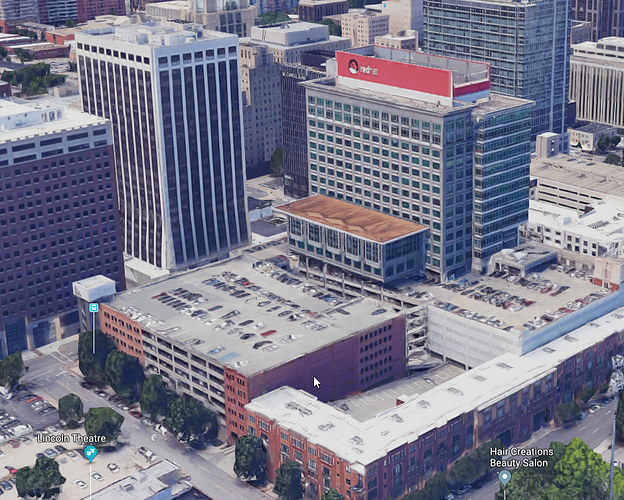 Let's just keep it here and expand the scope.
Lincoln Block makes the most sense to me.
Pre-IBM Red Hat hasn't very keen on getting another building in Raleigh as they focused heavily on remote working, Brno, and Boston. I would be surprised if Red Hat decides to build another tower in Raleigh.
Me too. In addition to your points, IBM holds the purse strings now, and where does IBM put their employees?..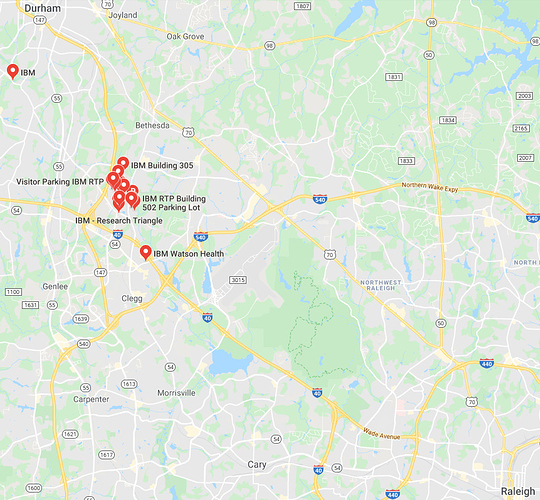 …not downtown.
Yes, it's not a surprise to anyone that IBM's Triangle locations are non urban. But they're from decades back.
It's a different era now. Urban locations are the new trend. Also, there's many who think Jim Whitehurst will be running IBM in a few years.
So when Redhat can wait no longer and has to expand outside of their current tower, they can:
expand into a second tower in Raleigh
move entirely to a new larger tower in Raleigh
or move to another region altogether (Boston, for example).
But I doubt we'll be seeing Redhatters out in no-wheres-ville RTP or some campus off Millbrook Avenue. They already moved from Centennial Campus to DTR. My bet is DTR is where they'll expand.
I have had a lot of recruiters contact me about open positions at IBM and I always turn them down because I don't want to have to commute out to RTP. I wonder if my position is in the minority or majority of popular opinion.
I would say minority. IBM, at least from my perspective, carries so much weight in terms of "that's a good job." I think the general workforce would see it that way versus others (the minority) that look for other things like a shorter commute or want a smaller company culture.
On paper, maybe. However, a lot of times certain buildings are ghost towns since certain teams are allowed to work remote.
PS. They are putting a lot of money into renovating the current buildings. Not sure if the master plan is to make everyone come into the office at some point or to bring some more (Red Hat) employees into the park.
I will say this. About 2 years ago they tried to make everyone come into the office. They made the announcement and immediately lost a bunch of very talented devs and designers who found jobs almost immediately. They quickly pulled back that announcement and only enforced the rule for certain teams.
I have a buddy that works at Redhat and he only has to come into the office maybe two times a week I think. He lives out in Angier.
I do recall an news report, maybe a year ago, that IBM was going to stop letting people work from home.
I've started my own business, worked at a successful startup, worked on the digital side of healthcare and (currently) working at a Fortune 50 company.
What I have found is that smaller companies that are vying for market share defiantly are helped by having a team that is 'in-office' everyday.
Smaller companies don't have the infrastructure to compete with the big boys so they need to be faster, more agile, and really create a culture around 'work hard, play hard.' They also need to be successful at acquiring top talent at a low price. That means brining in younger, more inexperienced workers who have a ton of untapped potential. To get those types of younger workers tapping into that potential quickly, you have to create that team environment where everyone is working together, and learning from each other in real time.
With larger companies, you often have the ability to have a workforce that is pretty seasoned. You get this by being able to pay better and give better benefits. This group is much more capable of putting out a high quality product without having to be in office all the time. They don't need as much oversight and are able to troubleshoot problems themselves.
However, you constantly hear these big companies saying they need to be leaner, faster and more agile to keep pace with the startups ability to iterate and change with the market. Some execs think bringing everyone together and mimicking startup is the answer. But as you do that, you start to trim down your talent pool and only can select from the local inventory. So it's really a catch 22.
The more successful large companies seem to have a hybrid situation. Certain teams that need to be always in-office are assembled locally and work like startups, while other teams are allowed to work remote. For instance, designers and developers who have a lot of 'head-down' work to accomplish are usually allowed to work remote.
My point is, anytime you see a large company make a blanket statement about 'working remote' or a mandatory 'come into the office' rule, you can bet they are probably making a mistake. There seems to be this fine balance that some bigger companies are starting to find that allow them to operate with outstanding reach, but also stay flexible and agile as the tech landscape (and customer needs/wants) are constantly changing
From the Triangle Business Journal:
"Red Hat's Whitehurst tapped as IBM's president"