Sorry if I missed the correct spot for this, but since I think the NCSU sphere of influence goes to Hillsborough/Gorman I figured I'd mention that all the trees have been cut down (like lots and lots of huge trees) at the NE quadrant of this intersection. I assume the homes will come down soon, but I haven't seen that the project is indeed moving forward. Actually I am not longer sure what its last proposed incarnation was.
Its worth taking a look…all this was farmland when these houses were built and you get a really good feel for what this looked like around 1920 when these were just built or about to be built. Hillsborough Streets fancy cache back then wasn't just downtown…it came all the way to at least Royal Bakery and even on through Cary and Morrisville plantation homes lined this road.
There was some talk about it somewhere on here recently (off-topic tho). I asked what was getting built but didn't get a response. Meant to follow up but since it was off-topic and I couldn't find the right thread, I gave up. Still want to know!

Those 3 lots are owned by FMW real estate in Charlotte. They are the company behind several other Hillsborough street developments marketed under the name "Live on Hillsborough".
https://www.liveonhillsborough.com/
All of their work looks about the same and pretty generic in my opinion. Hope they do something different with the 3 properties fronting Hillsborough between Furches and Montgomery, but I expect more of the same.
Think it'll be similar to 3020 Hillsborough, the "Uncommon" https://www.uncommonraleigh.com/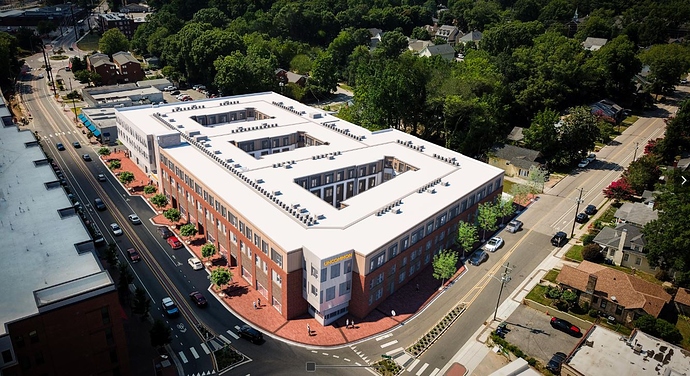 Uncommon yet very common…
Thanks though I hadn't seen a rendering for this.
So I guess this is the best place to talk about this:
Is it just me or is Hillsborough Street exploding? When I drove down it recently it seemed much taller and denser than in my memory, and with lots of development ongoing. Maybe this is well-know and I'm behind the curve, or maybe it's just because I don't get down that way very often and all the changes seem sudden. I don't feel like I hear anyone talking about it on this board though.
Interesting. Haven't been down that way in probably at least 9 months. I'll have to check it out.
There's definitely a lot more apartments on Hillsborough Street with 3-4 opening every year. Rents are going for $700+ (per room) and $100 a month for parking for 3-4 bedroom apartments.
I will say that I like the idea of State students living on Hillsborough instead of far away from campus like trailwood/Gorman and west Raleigh.
I'm on Hillsborough street all the time and it seems like it's exploding to me too. Couple more pics from a recent stroll: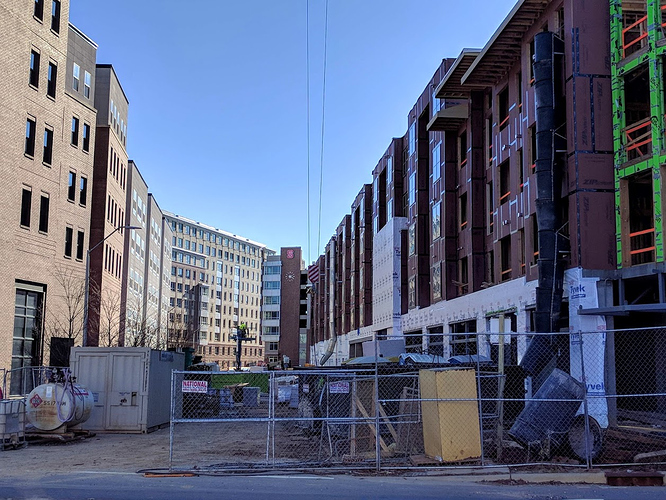 L to R: Stanhope, Valentine Commons, The Standard
I like that The Uncommon and The Standard will be across the street from each other.
Though the student housing growth in west Raleigh isn't stopping either, not with the new development next to The Republic along Hillsborough past Western Blvd., and The Station along Trinity. Personally, I don't know how much I'd enjoy living that far away from campus, even as a grad student, but if the amount of red solo cups left by the Republic community pool is any indication, it's pretty popular.
Red solo cup poll - that's an awesome measurement! Though I will admit, I often lose track of my own, and so use more than one.
It is kind of sneakily becoming the most urban cooridor in Raleigh. I ride my bike there on the way to work and finished up a part time MBA in the middle of it last May. The bus service is really good there too. And, two buildings were built without parking. Check out the Friendly Apartments. Pretty neat model for Raleigh IMO.
Coincidence?


Also, their target tenants are college students who don't really "need" cars to get to and from classes. Having access to a car in college is a luxury, so it isn't a surprise there was no parking included in "student housing"
True, but the denser, walkable environment on Hillsborough and even at Cameron Village (15 min walk from my office on campus) gives kids the experience of living without a car and still getting day-to-day things done. That experience can plant the seed for the kind of environment they want to live in after college.
@$700 a room, this may be the model of how to provide lower cost market rate apartments downtown. If 2 bedroom apartments were $1400 and 3 bedrooms were $2100, they couldn't be built fast enough.
I never had a car when going to State years ago, and there were certainly fewer walkable resources than there are now.
If "more of the same" means more of the same stuff that FMW has already been building- then I am all for it. They are responsible for several of the small-scale, parking-lite apartment complexes like 1301, 2604, and 2811 which are IMO some of the best small scale infill in the southeast. Their larger-scale project (927 West Morgan) is also IMO one of the better large-scale efforts in the corridor, perhaps second only to Stanhope.
The lots are zoned for 3 stories, so I am not sure if retail is possible/likely. I wonder if they kept the three lots separate, and treated them all as individual developments, could they get a separate 16-unit parking exemption for each one?