This has been happening in DC for 25 years and many other cities more recently, as well.
White people have more money than black people, on average. People with more money buy their homes instead of renting. People with more money buy nicer homes than people with less money. This isn't a new phenomenon, but I love when they make it about race. What if a white person with less money rents in that neighborhood and a black person with more money buys the land and builds a big house? Is that better or the same?
Well, I think it being "a thing" is really more about history and culture than economics. East Raleigh neighborhoods were established during a time when black people were only allowed to buy homes in certain areas (redlining). It didn't matter if they had enough money to buy in a white neighborhood, they couldn't because of race.
Honestly, I think it's a really complicated issue. My house is on property that was deeded to freed slaves by a white landowner 100 or so years ago. Poor people lived in the area and the value stayed low for many years until downtown neighborhoods became more desirable in recent years. I definitely have mixed feelings about it.
Look up redlining sometime
My family and I are looking to be first time homebuyers in the near future and South Park is one area we've considered. And yes, we are white. It's definitely a balancing act between wanting to be close to downtown at an affordable price and why it's still affordable to a family like ours…the decades of race-based disinvestment that came before it. I would love for the neighborhood to be mixed-race for the long haul but that's usually not how these things work out, and it's enough to make me think twice about moving to such an area. Even so, I think if you respect the culture that has already developed there over decades, there shouldn't be too much conflict.
This is a really interesting document both informationally and presentation-wise. I would love to see similar documents/studies for many other areas of the country especially our own. It's vital important to understand how the policies of the past shape our present and to ensure that future policies don't continue mistakes of the past or overcorrect to make mistakes in the future.
There's a small effort attempting to tell the Raleigh story but apparently, and others have tried, the Raleigh redline maps aren't as easily found. It's not to say they don't exist. It's just that they may not be actual maps but rather institutional knowledge or where to lend and where not to.
I'm assuming this is one of your self-professed devil's advocate, snarky comments. If not, dude do some basic research. Basic.
I knew there is evidence somewhere of the racial covenants that neighborhoods had. The Longview Gardens ones were at least found somehow. I am betting a map of where those were would work to show pretty much the same effect.
Separate reality : the development of racial segregation in Raleigh, North Carolina, 1865-1915
A SEPARATE REALITY: THE DEVELOPMENT OF RACIAL SEGREGATION IN RALEIGH, NORTH CAROLINA, 1865-1915 by Karl Edward Larson A Thesis Submitted to The Faculty of the Graduate School at The University of North Carolina at Greensboro in Partial Fulfillment of the Requirements for the Degree Master of Arts G;r-eensboro 1983 Approved
Thank you KARL LARSON aka RALEIGH-BOY…R.I.P. …we miss you.
I'm glad that we are having this discussion about redlining. I've known about this history for quite some time now, and had referenced it many times when talking about the history of wealth in America among friends and family. It's important to understand that wealth building, through home ownership via US government policy, was objectively a white privilege. African Americans faced a one-two punch of being discriminated when they faced a loan offer for who they were, and oftentimes for where they wanted to purchase. Black buyers faced nearly insurmountable hurdles when trying to buy a home in both white and black neighborhoods for decades.
The juxtaposition of what's happening in SE Raleigh adjacent to downtown proper couldn't be more stark, and it's by no means an anomaly in the US. The starkness of the contrast from the past to today is what's the most compelling story to understand. While we talk about places like South Park being in transition, that's too soft of a word in my opinion. These are places that are literally going from being a place where you couldn't get a loan for decades, and suffered the consequences of that policy, to a place where some of the highest $/SF homes in the Triangle are being built in just the last few years. Long term residents who rented are often going from being unable to afford to leave the neighborhood, to not being able to afford to stay in the neighborhood nearly overnight.
This looks like such a valuable resource. Will have to dive into this.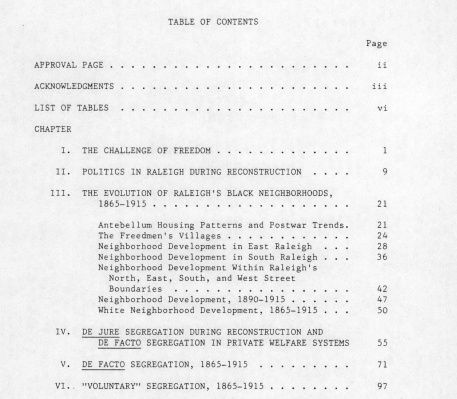 Right before the NYT article came out I was looking through all of the housing in the South Central CAC. Fascinating to see where the oldest homes are and how things developed. The oldest home in South Central CAC (according to Imaps) is actually directly behind Transfer Co. Built in 1891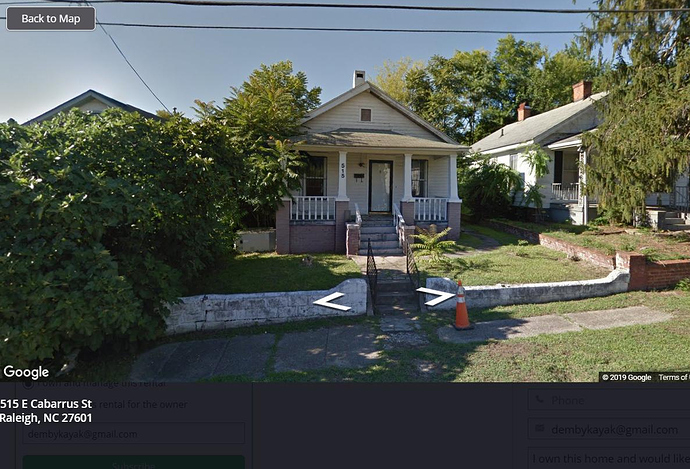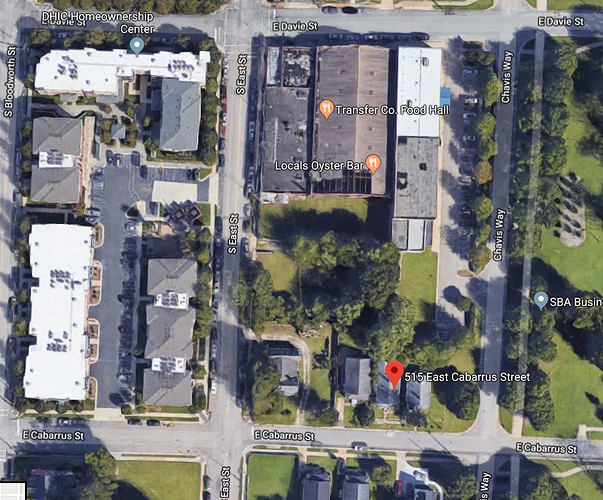 The same thing happened in 5 points more than a decade (Not talking Hayes Barton) ago but it was white middle class who were 'priced out'. It didn't make the NYT because the racial undertones didn't make for as compelling a story…although they did run the "Mcmansion hysteria" articles around that time,
Not at all the same thing. Being priced out is not anything like being systemically discriminated with.
Renters in particular are more subject to being "priced out", but white renters living in white neighborhoods didn't have a long history of actual government policy that all but prevented those renters from becoming owners. The effects of these old policies are particularly felt among the very oldest in black communities, and oftentimes subsequent generations of families that couldn't pass down any wealth creation through RE holdings. They are similar, but not the same issue.
Let me amend my statement to say they're apples and oranges. They're not the same but their both fruits, in the same ballpark to mix metaphors. They're both issues that a growing city should be aware of and looking for ways to address.
Does anyone know where to find maps of the old voting "wards" in Raleigh from the 1800's? Would be interesting to see where those were.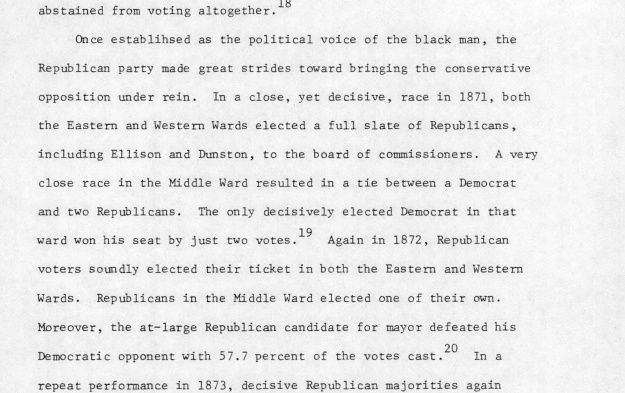 Good Lord. The NC General Assembly has been gerrymandering districts for so long…