Shaw University does not have a Law school…are you thinking of NCCU???
I've often thought that Shaw could optimize their location better by developing a strong arts component for visual and performing arts and offering a masters level arts education. It could take advantage of the downtown location for its resources and it would be great for downtown to have a large group of art students living there. African American art in all forms is very popular right now but it would be nice for them to be open to a diverse student population.
As we've covered in this thread, Shaw University has such a cool location. Nestled right on the edge of the downtown business core.
In this pic, you can see the 'shaw U' spelled out in the lawn in front of one of the two white towers on their campus. Pretty unremarkable soviet style dorms.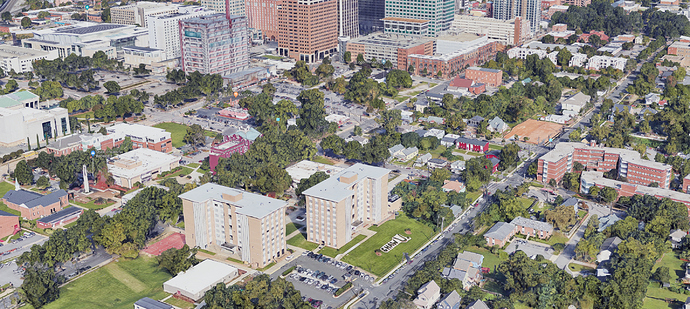 I was noticing on a Nashville thread how Vanderbilt is tearing down the 4 dorm towers there and replacing with these timeless brick/granite classical structures (pics below), anchored with a stunning 20 story tower with an intricate dome.
Of course Vandy is rich, and Shaw struggles to keep the lights on and make payroll. If only they could take on their own campus upgrade and boost the Raleigh skyline in that area.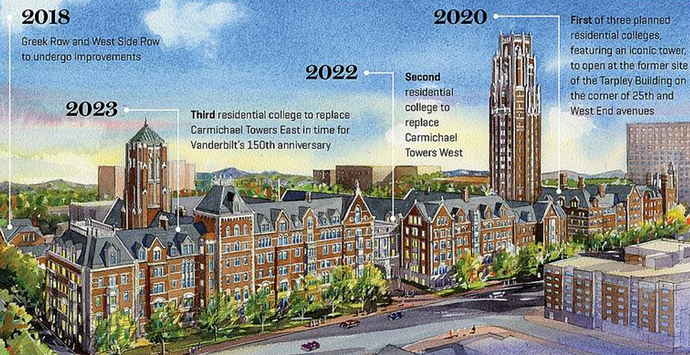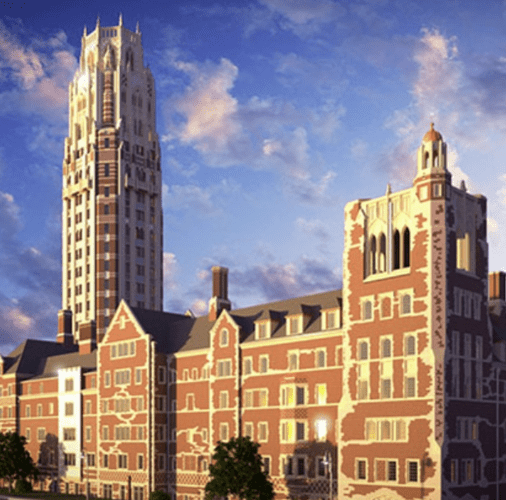 I am no expert on this stuff, but it has certainly struck me that as the population of NC grows, many of the smaller colleges do have an opportunity to increase their stature. I think each school needs to have a niche. Partnerships with outside businesses and organizations seem like a good idea.
That reminds me of this article, which documented the (beautiful) traditional architecture still practiced by Ivy League schools in the northeast.
Vanderbilt is definitely more financially able to do that kind of thing than Shaw, but someday those dorms will have to be replaced. I hope that Shaw will have the resources and the growth they need at that time to make an architectural statement.
Interesting subscriber article in TBJ regarding Shaw and St. Augustine's. It discusses how the two schools are traditionally rivals but are working together by sharing resources to reduce costs.
As has been noted, they are land rich but cash poor. I would really like to see the schools succeed, especially Shaw with its amazing location and rich history. Estey Hall at Shaw was the first building constructed for higher education of black women in the entire US. SNCC was organized on campus and played a big role in the Freedom Rides. These are major events in US history and I think Raleigh could do more to promote them.
https://www.bizjournals.com/triangle/news/2019/10/18/cover-story-for-shaw-university-and-saint.html?iana=hpmvp_trig_news_headline
They aren't allowed to deny and they don't deny other races from attending.
This is a simple fact which is also my opinion. Some HBCUs are underfunded by state governments and are losing money due to the fact that not many people want to go to them because of stereotypes and etc. Racial integration at PWIs has caused this, as well as, the change in the societal view on HBCUs and their presence. Many people, especially non-African Americans and even African Americans tend to believe that HBCUs are less than or unaccredited compared to PWIs, which, is not true.
Anyone is able to attend.
In addition to these points, Shaw and St Aug are both small private schools, which means they get essentially zero state support. In all honesty, the economics for very small colleges, both PWI and HBCU are very challenging. Obviously a small PWI is more likely to have a hefty endowment, but many PWI are in danger of closing or have closed/been acquired because of challenges associated with a small student body.
From an economic perspective it would make a lot of sense for Shaw and St Augs to merge and reorganize. 1,000 students (or thereabouts) is very small. The combined institution would still be very small (about 2,500 students) but they could fire half the senior leadership and save some cash immediately. They could also reduce the need for many redundant facilities (and indeed they already share a football stadium).
I've always wondered what St Augs is doing with all the land behind their stadium bordering Glascock St. They could probably sell that off and make a pretty penny for it.
St. Aug is in the worst financial shape of the 2, but neither do well. I struggle with how a degree from SA has any value. The HBBCU model is dying a slow death in general.
I keep hoping SA will just fold and sell of the land. William Peace is finically viable. They could buy it and keep the education charter but SA's campus is a dump for the most part and does little to enhance the neighborhood. Almost anything is better than what is there today.
Agree SA and Shaw should merge. SA has the most land I believe so selling it could help them significantly. But even this scenario is just prolonging the inevitable. The minute the FED cuts back on their funding model for higher education, HBBCUs and small liberal arts schools (including the Strayers of the world) are toast.
This is verifiable crisis for private liberal arts and traditionally black campuses. As a university professor I follow this pretty closely. Small liberal arts colleges in the Northeast and Midwest are getting hammered, with more they half their students on a discounted tuition rate just to keep their numbers up, and many of them teetering on the verge of closing. For HBCU's, the situation can be worse. Indeed, St Paul's in Virginia closed its doors last year. The commonwealth considered closing Norfolk State, one of the state supported institutions, last year. I believe it is Bennett College that was saved by the intervention of some well-funded well-wishers that raised enough money to pull them out of a financial crisis. Bennett faces a double whammy of being a historical black and an all-woman's institution. You can see the struggles of women's institutions and changes forced just in Raleigh with Meredith (opening to graduate men) St Mary's (dropping college and going all high school) and Peace (going 4 year).
The market is going to force Shaw & St Aug's to do something. They are both proud schools with strong traditions, merging probably makes sense, but will be easier said then done.
Why would you just hope they would fold and just shutdown smh ? Maybe not to you but they still have value to alot of people and I know plenty of people doing just fine with degrees from Shaw and St. Augustine's.
A private college is a business and if you are losing money then you need to change your business model. Doing the same failing thing year after year is obviously not ideal. As mentioned above, some of the local colleges have changed their business models in order to become viable. It seems as if they need to do something…
I've always thought that a school of the arts offering MFA degrees in painting, dance, theater, music, etc would do well at Shaw given the location near all of the arts facilities. It would also bring more artsy people into the downtown area so might be a good investment for the city to support. Probably no way to get that going without a huge donation though.
A lot of the discourse on this thread is really, really bad. Shaw and St. Augustine's are assets to the community, and a lot of people deeply care about their future and success, the same way that probably all of us care about our alma maters, and we should all be rooting for their success. It's a really, really terrible look for people on this forum to be actively rooting for either school to shut down because they'd like to ogle the redevelopment potential of the real estate the universities control.
A couple of people have already mentioned this, but one more time for the people in the back: HBCUs are open to anyone, and in fact they generally invest great effort in trying to diversify their student bodies. Unfortunately, this effort is made very difficult by the fact that many white students are intensely hostile to the idea of going to a predominantly black campus, but it's not for lack of trying on the schools' part.
Also, it's certainly possible that Shaw might someday absorb St. Aug's, but a lot of the "merger" speculation is lazy and shallow and reduces both schools to a single characteristic that is treated like it's the only and defining characteristic of the two schools. But Shaw is Baptist whereas St. Aug's is Episcopal, so it's not like you could really "merge" the two schools, notwithstanding the fact that both are historically black. One school, almost certainly Shaw, would have to be the senior partner. Notably, St. Aug's is actually physically closer to WPU (which is Presbyterian), which has also had to undergo some pretty rapid change in order to stay solvent, than it is to Shaw, but absolutely nobody is speculating about a possible SAU-WPU merger.
Don't judge my comment as anything negative about Shaw. I think it's vital to downtown Raleigh. I was thinking of an arts program as a way to help Shaw expand its offerings in a way that helps the university and the city both. Many universities offer advanced art degrees but I think it could help Shaw differentiate itself given its location near the arts scene in Raleigh.
I'm glad someone finally made a smart and thoughtful comment without being completely bias and belligerent.