What a load of

Not get us off topic, but…
"To visitors, Durham is textured and genuine with a unique sense of place. It is ethnically diverse and
contrasts distinctive architecture with research, technology, health care, and science. Raleigh is the State
Capitol and the center for government. "









The narrative that Raleigh doesn't have an authenticity or isn't diverse, needs to stop. Just my 2 cents.
The optics of Raleigh doesn't help, though

Whether you look at…
Local government (also see: the Council of No)

Urban design and civic engagement (Durham, Chapel Hill, Carrboro, and even Hillsborough have lots of strong citizen advisory councils etc., and Durham even has a participatory budget system that lets residents vote directly on select projects)
…I'm sure we can come up with counterexamples on this forum, easily. But you gotta admit that the narrative still has some truth to it -and we need to be more intentional about becoming better than that.
Getting back to the thread's original topic of public transit, if Raleigh really wants to unite the Triangle's regional agenda and be more progressive… it needs to stop talkin' the talk, and start walking the walk.
Properly-done exclusive bus lanes, frequent buses etc., and more solid branding/awareness, might apparently be enough for us to beat Los Angeles, for starters.
I guess this is a good place for this. I am starting a new job Monday, and the commute by bus is not good. My wife and I just own one car and I take the bus downtown for work. The new commute is about 10 miles by bike and I tried that out Monday. It is possible and potentially doable by leg power alone, but I decided that I would need some help if I am doing it every day. So, I ordered an E-bike! This is the model I went with → CrossCurrent S2 - Electric Commuter Bike | Juiced Bikes
There are lots of options out there, I also really considered this bike RadCity 4 - Electric Commuter Bike | Rad Power Bikes
but opted for the more powerfull (28mph vs 22mph) and longer range (up to 70miles vs up to 45miles).
We will be seeing more of these coming to Raleigh, so "future of transit" seemed like the right place to put them. I am not sure the implications of what is needed facilities wise. Will report back after using it for a while. My feeling is that this will just allow more people to get on or roads and see that we need more bike lanes and protected bike lanes.
Before owning a Car I rode the Bus to work every day, I leave my house at 5:30 am to get to Morrisville by 7:00am almost a TWO hour ride by Bus. Standing at the Bus Stop there is no bus shelter, no benches, no maps indicating where you should go, just a bus stop sign. I have done this Off/On for over 10 years now, within that time GoRaleigh/GoTriangle has made some improvements…SOME. but more can be done. After leaving work ( at 3:00pm from GoTriangle to Go Raleigh buses I arrive at home by 6:00pm. ) by car…15 to 20 minutes each way.
An RFP for the Triangle Bikeway Implementation Study went out this summer. Link:
http://www.dchcmpo.org/civicax/filebank/blobdload.aspx?BlobID=30390
Notice to proceed was scheduled for 9/27/2019. Not sure who was picked. Cool thing is that among the desired end products in the RFP is a "functional design(s) and a recommendation for a phased implementation approach from Trenton Road in Raleigh to the Park Center site at Research Triangle Park in Durham County". That's a much longer route with better connections than what was discussed in the N&O article you linked.
If I was the RTP Foundation I'd be getting behind this as a way to help RTP companies attract talent that has no interest in a long car commute.
I would consider working for an RTP company again if I could work from home 2-3 days/week and bike the Triangle Bikeway from Raleigh 2-3 days/week.
That Cross Current looks very cool. Keep us posted on how you like it and commuting on it.
http://www.dcvb-nc.com/cr/WHY_DURHAM_AND_RALEIGH_ARE_MARKETED_INDIVIDUALLY.pdf
Thanks for the link. That one's a tough read. I find myself disagreeing with nearly all of it.
It's a very logically twisted argument that ignores the elephant in the room… more people commute between Wake and Durham county than any other two counties in the state by a very large margin. It is impossible to use objective metrics to define the Triangle as two metro areas and not split all metro areas in the country into their constituent counties, so one has to use emotional appeals, as this paper does.
I live in Orange county and commute to the Durham/Wake border every day. It's pretty common for me to spend days doing things in all three counties.
To top it off they list Raleigh-Durham-Cary as a multi-core metro area with several other multi-core metro areas which are still considered single MSAs (Minneapolis-St Paul and Dallas-Ft Worth for instance), though all the same non-arguments could apply to them.
On thee topic of the Triangle being a multi-core metro area, it looks like that "regionalism" being poorly-defined was one of many issues that killed the Durham light rail project.
That's not coming from my opinions; GoTriangle commissioned a post-mortem report to look at what went wrong, and what they need to do better.
Surprise surprise, they got roasted pretty hard.
TL/DR

GoTriangle never explained how this solves a problem the Triangle had. (it's the "wtf y u no have airport link" problem, but GoTriangle never gave a good answer people liked)

A lot of people didn't know who they were or what they were doing. Whether it's how CEO Jeff Mann was also the project manager, how the Board of Trustees isn't represented by the people they serve, or how there was no communication plan/point-persons for sticky questions, everyone's roles were defined terribly.

Even more people weren't involved. Citizens who were eminent domain'd for the maintenance facility, business leaders etc. were never on the same page -all while GoTriangle was like:

There were too many moving parts that depended on set-in-stone agreements that weren't there. GoTriangle engineers wasted weeks on designing things only to throw it all away when Duke or NCRR/Norfolk Southern sent out its latest demands
Once you see this,… is it just me, or is anyone else also REALLY worried about Raleigh's shot at BRT?
Interesting quotes from the report
Full report here
Anyone has heard of this new type of transport
I checked the GoTriangle implementation schedule and that all-day/weekend 305 service is coming next fiscal year - yay!
It's not really new; it's just more obscure (and hasn't been hyped up until recently).
Guided buses have been around since the 80s in Europe and Japan, plus two other, more recent European attempts at similar things are also out there (the Bombardier Guided Light Rail and the Translohr)
They all seem pretty cool, but there are some serious infrastructure and maintenance problems that need to be solved first… (that, and probably FTA approval, since it's never been done in the US before)
Yes- GoRaleigh is a completely different agency with completely different governance that answers only to City Council, not some assorted basket of regional representatives.
There is something about the governance and the agency of GoTriangle that has caused them to go 0 for 2 so far. They need to sort it out or else the commuter rail will make it 0 for 3. NCRR is the key partner on that one. They have to be 100% on board with the whole project. No kicking the can down the road again please.
I'm suprised by how much I've seen this "trackless tram" think popping up recently, since it's mostly just buses with a different form factor. Maybe people are excited about them since they look more like LR?
Well, if hiding them bus's wheels increases buy-in on public transit, I'm fine with it.
I like this guy's imagineering.
The beauty of the routing is it actually follows the big spots on I-440 and then provides a good bit of grid coverage for downtown/NCSU and on to Blue Ridge and RDU.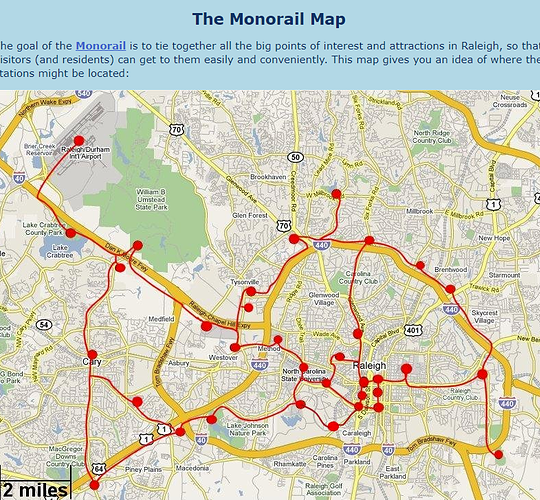 The suggested 'skytran' modal works great for a non linear layout like this.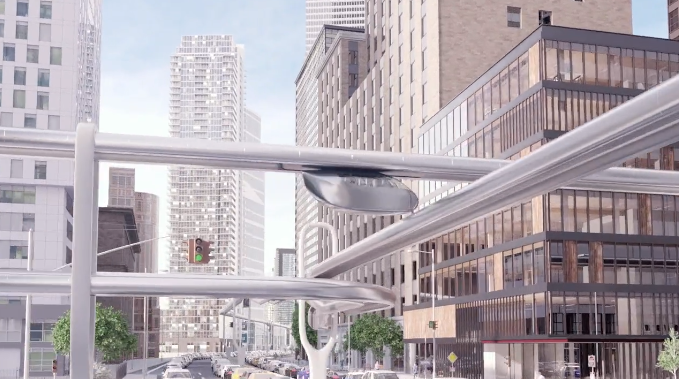 I like the layout, not the tracks overlaying each other themselves.
With cars that small, I am deeply skeptical that that could ever be a viable transit system for the 400,000+ people living in the city, and million more that go in and out throughout the week.
The problem with all of these "I can't believe it's not trains" systems is they don't have to rely on the hard accountancy that tried and tested systems have.