If this building was maxing out height, it would tower over Wells Fargo: something that the video doesn't show happening.
Nice find. Would love to hear more about this soon. While the design is not unique it's not bad. I have no issues with this at all. Hope this is a real project and breaking ground before the next economic depression. Signs are pointing to soon.
I work on the Wells Fargo building and park at Alexander Square. I did hear talk about Kane taking half of the parking deck and building on top of it. Not sure how they will do this but it's gonna be a mess for parking at Alexander Square.
Yeah, Kane is only the leasing contact, POP, which is a fully owned subsidiary of PAC will do the development.
PAC is interesting in that it's a publicly traded REIT (Real Estate Investing Trust). It's a way for investors to invest in real estate without having the $ and/or time to buy/run it themselves. The company in turn, gets significant tax breaks, but is required to pay out at least 90% of it's proceeds to investors as dividends.
My takeaway from the video showing the views from the first office level was how the 12 level parking garage is insanely tall. Really hope they clad it better or have plans for buildings at the north side and southeast corner to hide it.
The video shows the "view" from the Top office level, which seems to be right at the tippy top of Wells Fargo - I would imagine there'd be some more height above the top office floor for electrical/duct space, and then the roof itself- potentially more height if there's any sort of decorative crown. This may just end up slightly taller than Wells Fargo!
Reading the news release from July 25,
A quote from news release about purchase of Captrust ""Boone DuPree, President and Chief Executive Officer for Preferred Office Properties, stated: "Raleigh is a strategic market for the Company, and this 'core' profile acquisition grows our local presence and offers entry into the high performing North Hills submarket, which is a one-of-a-kind environment with unmatched walkable amenities for our customers." Mr. DuPree added, "We are excited to expand our business in this way, and to continue our relationship with premier local developer and operator, Kane Realty."
There was no mention of Fayetteville Street project.
Not sure if this is normal financing for large buildings such as Captrust, but find it interesting. According to news release,
The first mortgage loan is for a ten-year term and is interest-only for the full term. There are no loan guaranties provided by PAC or our operating partnership. Is also non-recourse which means at end of 10 years they can just hand the keys over and walk away. At very lease get the "ownership" of build for cost of interest only - rough guess < than 5%.
Wells Fargo is 400 feet.
Remember when we all thought that FNB was going to be taller than it is?
At 30 floors, with many of those floors being parking levels, I'm not buying its height by that video.
121 Fayetteville, Nexus, City Municipal Tower, and 301 Hillsborough would be quite the group of cranes!
True. Note that website and brochure consistently mentioned "30+" story building. Likely somewhat flexible to increase if needed based on demand.
They should top it with residential, as long as they don't slap those afterthought terraces on it like PNC did.
Mike beat me to it was just about to post this from brochure
"With soaring architecture and stunning views, this 30+ story landmark-in-the-making "
They likely used a drone to estimate the height for that video. One thing I'd caution is giving too much weight to the respective height to Wells Fargo. Reason being, when you launch a drone downtown among tall buildings you don't establish nearly as many GPS satellites and as a result, don't have as accurate of a position. You may notice this if you look at your cell phone location when downtown/Fayetteville St. I'd say there could be 20-30' margin of error with that video. Just throwing it out there.
I'm in Switzerland right now and the whole country is going through a construction boom. I have seen over 400 cranes in 6 days, my current view in Zurich I see over 20 cranes. To be fair, much of this construction is sub-20 stories by the looks.
I am realistically in the camp of "it probably won't be as tall as they're making it look" but I'm just being stupidly hopeful

Here is the street level floor plans. Looks like the Wilmington st side will get a redesign of the retail size. Either way it would be nice to finally see these spaces filled. The Wilmington St. side have been vacant for years.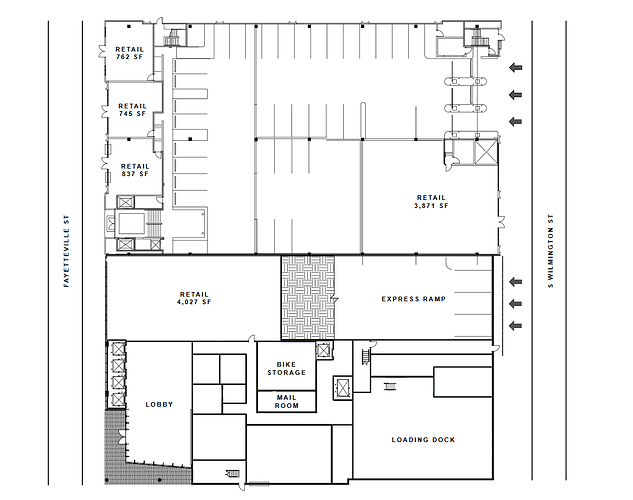 Saw the same thing when I was there earlier this year. Nothing too tall but the City is so beautiful!
I don't suppose there is anyway for you to know @Francisco but would you care to guesstimate the split between residential and office construction? It seems all I read about in the Euro-press is the housing shortage in popular towns - London/Paris/Berlin - I am sure Zurich would count among those. "House Hunters" was in Zurich not long ago and they talked about the housing crunch.
Are they tearing down this half of the Alexander Square deck, or building on top it? I have always heard that the parking deck iwas built to make it possible to put something on top, but I doubt they put foundations for anything this big in when they built the deck.
I think that this shows the Wilmington street side of the tower will have no active uses at all. Just a loading dock and an "express ramp" (whatever that means.) The north side with the retail on Wilmington is just the part of Alexander Square that isn't being built on.
This looks promising, and I do hope that "30+" reference indicates a willingness to spring for more office height or residential. I will reserve judgement, however, until I can get a sense of how well it tapers down from PNC.