Ahh, so it will sit empty for years, I guess.
Sounds like you know how Highwoods operates…Lol



Could you imagine a Raleigh were Highwoods were like John Kane but then took it a step further and actually bought properties, worked with other designers and developers and built truly unique, thoughtful, and perhaps even beautiful buildings? And in doing so, helped to elevate NC's state capital into something more than just a city with square buildings and a street name of Capital Blvd, but maybe a capital with a beautiful blvd and inspiring buildings? As in the state's motto: "to be, rather than to seem"?
Not that I expect a response…
Well, not getting a response would mate well with the actual development brand, so there's that.
You're all wrong. They will demolish it all first *then let it sit undeveloped for years while collecting some parking revenue from it.
Based on ~30k square foot site… maybe 1st floor retail, 4-5 levels of parking, and 5-7 levels of office??
The parking is the part I can't figure out. Any idea how they would lay out the deck? It would be much easier for them if they also picked up the small Dillon Supply Co lot at 213 S Harrington.
I'm no expert but simplest to me would be use the existing ramp for entrance/exit off Harrington and then have a spiral ramp for up/down like the airport deck to access each parking level. This would leave the building the simplest shape and repetitive floor plates. Red area about 22,500 sf. Two-way traffic on a spiral ramp might be more difficult though?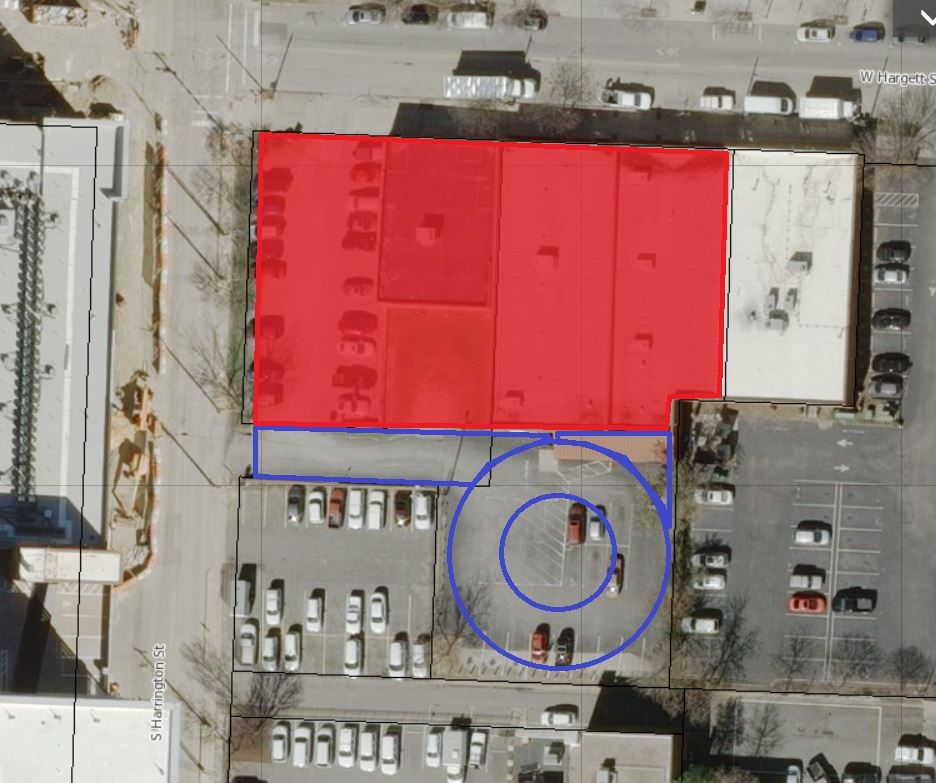 Spiral ramps allow for rapid access to higher floors but reduce parking density. If you have no parking on them at all like the airport, then you lose a massive area. If you have parking on the ramps then you lose the corners. Of course if it's a round building like the clarion then you waste part of the lot.
Legends getting squeezed in from all sides. Well remember the days back in the 1990's when you could swing the proverbial cat and hit nothing but flat top parking lots. Those were the days.
I am those days. We put Raleigh on all the 'best of' lists. Those days feel numbered now that the coat tailing has amped up to new levels.
I was taking a walk through the blocks around Nash Square this afternoon, and I saw that the property at 320 W. Martin St. is under contract. This is the building on the corner of Harrington and Martin, and it occupies about a quarter of an acre. Anybody know anything about this? I mean, it could be insignificant, but with so much development happening around Nash Square, any sale is kind of interesting.
Seems like that would just be 1 of the condos for sale?
I don't know. Yeah, now that I look at the info on Wake County Real Estate, that looks like it would make sense, but the sign that was posted didn't make that clear. Just walking by the building, it wasn't clear if they were rental units or what.
I'd be willing to bet it's being torn down to build…parking, just like Edison office lot.
Highly likely at least for the short term
I'd guess that property has more more value if it's already cleared. The iron is hot right now downtown and it's time to strike. Let's hope that it's being razed because it's going to soon be developed.
Shouldn't we see here at least a demolition permit on the City page?
Preformatted text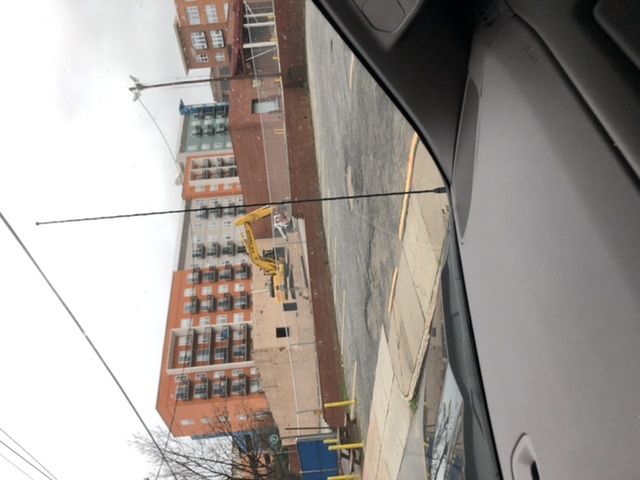 Sideways world…strikes again!!! This time with a excavator!!