301 Hillsborough St. will start soon !
Okay Dwight. Give us just a little more info please. Lol
And for those who don't remember:
…please, can I have some more?
@ Unique12b & DowntownRaleighGuy , That is all that I know . This info. is from a very reliable person . I will probably hear more info. at a latter date & will post if I do .
Please please please change the design
I guess those investors hoping to cash out to Amazon are now working plan b. Haha. Maybe now we will hear about N&O site soon as well. My bet is the property will be auctioned off at least one more time.
And probably 400H as well…
Unfortunately we have to go over to North Hills to see anything above 30 stories going up anytime soon, what gives?
I think you mean, anything over 20 stories?
Sad and true all at once

@nipper.dwight
Awe come-on…not even a time frame or will they change the design???

I have heard that once Amazon was decided we would see a flurry of building. Everyone is going to start their projects, they were just waiting to see if they needed to rezone to DX40. Now that Amazon isn't here, the Edison, 301, 400H are all going to start with in the year.
Interesting. I'd love for you to be right. I'm a little jaded on these projects, but I really like the 400H and Edison buildings.
I hope they fire the design team and start from scratch. This project is a mess and one of the few instances where I'd rather they not build anything at all than to have to walk past what they've proposed.
I was at their website, trying to remember is this Project a ( 2 ) 20 Story tower ? And…when will the Buildings start Construction, Just curious.
It's approved for 20 stories, and the original design was basically two towers with a common base, but Fallon (who purchased the site from the original developer) has said that the designs are preliminary and that they would likely change it. We can probably still expect two towers, but they may look more like Fallon's projects in the Boston Seaport Premier real estate developer The Fallon Company calls Boston, MA home
I know the feeling…




I am just really (nervously) pulling for something more on this grand a scale for right up the street at the N&O block. It almost feels like the "last" hope of the current moment

These renderings were pretty awesome too: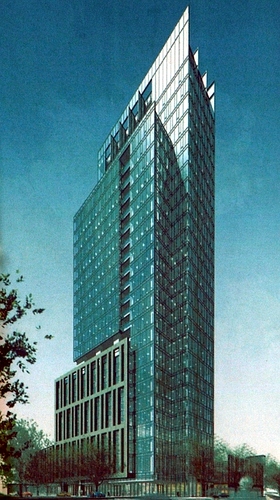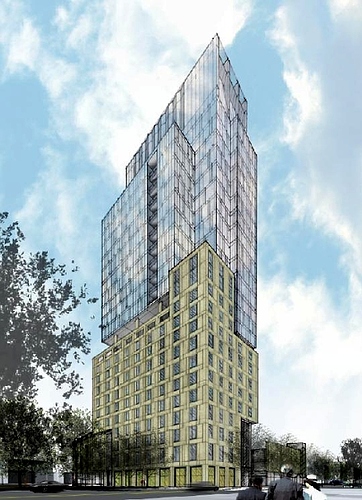 Any updates on this? Like an updated rendering or a start date? Does it still need approvals?
The developer is revising his new plans to city administration but will still be 20 stories .
Mr. Kane will take over the management of The Wells Fargo Tower & will have more
restaurants on the ground floor .