Downtown's first food hall planned to open this summer.
Seems the MS Food Hall is making slow progress. Anyone have a "real" planned opening date?
Given that the Transfer Co. soft opening is June 1st, I believe Morgan Street will be DTR's second food hall.
These are from 20 days ago, but here's what the MSFH looked like when I walked past: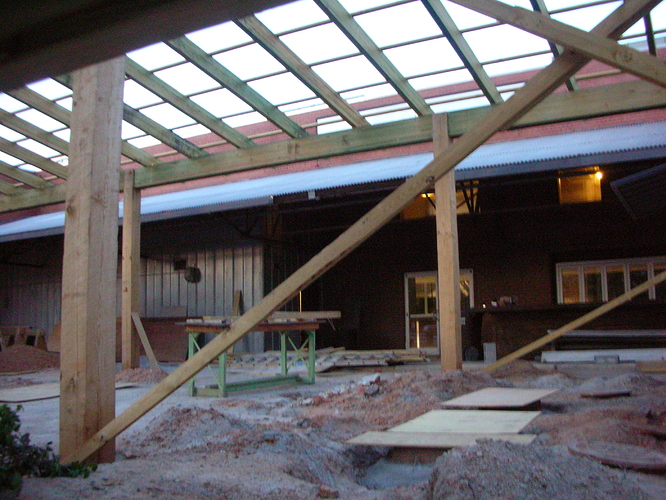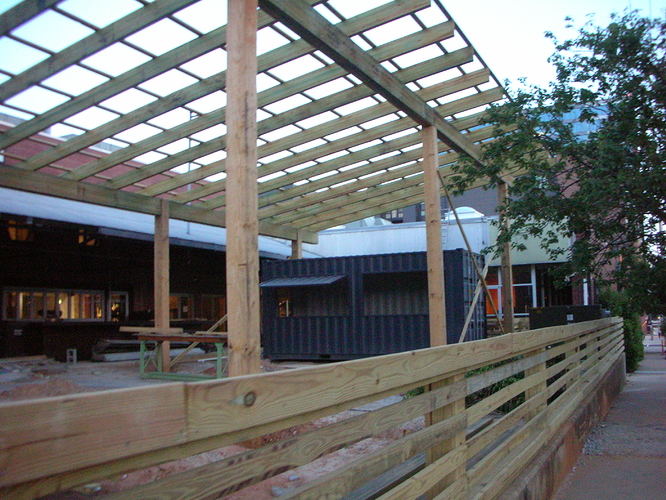 Looks like it'll be a nice place when finished.
I don't think that it matters which one opens first because they are far enough apart that they really serve two different markets. MSFH is going to be a gathering place for the Warehouse District and the southern side of Glenwood South, while TCFH will anchor a growing Moore Square District. It will be interesting to see how successful each will be. I have to wonder if MSFH was purposefully delayed to open after The Dillon project to make sure that the vendors wouldn't have to do business in a massive construction zone or have to operate without the built-in customer base of the additional workers and residents?
Where are you seeing that Transfer Co. is having a soft opening on June 1st?
I think what you are talking about is the "Invisible Worlds" exhibit which I guess will be inside the Transfer Co. building. However, I do not believe any of t he vendors will be serving food.
Good point about the Dillon. I don't know why it took them so long otherwise. Raleigh permit pains?
Looks like they have officially announced a Grand Opening date of Monday July 23.
Awesome news, I thought it wouldn't be until after summer until they open.
Can't wait for the Cousins Maine Lobster to be in a permanent location!
Hey, Monday July 23 is only a few months off from the original FALL 2017 opening. Raleigh is making progress!
Much like how Kaiju by Oak City Meatballs was suppose to open in March. Haha.
@Francisco I see fenced sites in Miami all the time with stretched banner screening that announce dates from 2017, but most of these properties are just still land or woefully behind in schedule that they'd be lucky to be open this time next year.
I was walking by tonight and noticed the progress, and was peering in the window. One of the people working inside was coming out and he gave me a little tour inside. 2 weeks till they open, and despite how much work he said needed to be done, it looks really great and almost finished inside. I thought it would be weird to take pictures, but now I absolutely cannot wait for it to open. Between Union Station, this place, and all the businesses in the Dillon, this is going to be a whole new heart of downtown within the year.
When Smokey Hollow is open, the N-S experience from Peace St. to The Depot is going to be at a completely new level along West and Harrington.
…and GLP, I so wish you would have taken some photos to share, but I understand why you didn't.
Fwiw you can walk by the windows on both sides and get a pretty decent peak
Raleigh Magazine has a good spread of the layout. 100% welcomed addition to Downtown Raleigh, Foodie Paradise it isn't though with the majority of the food vendors being already existing businesses some of which are good such as Sassool but some not so great like Wicked Tacos. I'm mostly looking forward to the brand spanking new vendors and having more food options.
I'm a bit biased though having just visited the Timeout Food Hall in Lisbon. Probably one of the best food halls in the world.
Food Hall delayed til August per WRAL. Ugh
I think that they are racing The Quorum to see who can open last.
Haha I was thinking the same thing @John
They should've just said they were opening in Fall 2018 in the first place and then overdeliver. Better than continued delays…
Totally agree @Lars always better to overdeliver rather than continually bait and switching.
22 Health Department permitted restaurant openings is quite an undertaking. Niall Hanley knows what he is doing, & doesn't want to open with half of the units not ready to open.