And I am so in that I just bought season tickets



Raleigh suffers the repercussions of not being bold in years past. We even gave away the traveling Broadway business to Durham in recent years. The city hems and haws while other cities take action. When someone proposes something bold, we then freak out over it and scare it away.
Rail to trails are great, especially because the grades are easy and accessible for average people, and they are not just sitting along sewer right of way like most of Raleigh's system is. But the ATT still doesn't register as an attraction…there's no peaks, no historic sights or points of interest, no art lining it. But in like Philly, the Mason Dixon trail sticks out as an attraction since it connects to the AT. So does the Potomac Heritage Trail up around Harpers Ferry qualify as an attraction with Harpers Ferry and the locks. Perhaps its just a grass is greener thing to me at this point…but much like transit budget around here, I think the parks and rec budget should be doubled or tripled…it just feels mediocre. I suppose that could be a worthy conclusion in this thread…that there simply isn't much in the way of tourist attractions and more could/should be done.
YES. Put a small satellite campus of NC Zoo in Dix park. Model after Central Park.
Also a signature tall structure (Raleigh's Eiffel Tower) with observation deck on Dix Hill. Possibly inspired by some kind of design that reflects an oak tree, or maybe a triangular design as the center of the Triangle…
We are losing our tech prominence to Nashville and even Charlotte, of all places. We don't have the right leadership at the moment.
Have always thought we should have the College Basketball Hall of Fame and Museum in Raleigh because this is the center of the college basketball universe but it's going to be impossible to get that away from Kansas City. Oh well
That and Greensboro has the ACC Hall of Fame.
I understand that. I guess I'm a little different in terms of what I desire. I use the ATT, and Umstead for that matter, as an escape to run in. I don't camp or like hiking in woods/forests, but I appreciate the scenery and secluded feeling. The ATT is relatively easy to get to from the city, and it's really accessible for anybody to walk/run/bike.
There was nothing like that in any of the places that I've lived, within a reasonable commuting distance to go any day of the week, and just completely zone out. I can run and don't have to pay attention to one damn thing except to enjoy the scenery.
Why I think it's marketable is because it's so accessible and continuous. I was in western Ireland recently and they pushed biking the Great Western Greenway pretty hard to tourists. Part of it had some nice sea views, but the majority was underwhelming in terms of what it offered, other a few towns to stop along the way to grab a drink and a bite. Why it's successful I think, is it's an activity that anybody can do, and it's in a completely controlled environment. Combining something to break the routine while also being part of a healthy lifestyle I think appeals to a lot of people.
I'm a runner too and make heavy use of the connectivity as well. Hundreds of miles in Umstead per year. If they'd punch the Crabtree Creek Greenway through the Quarry to Umstead I'd be super happy because then I could avoid going all the way up to the art museum to access Umstead. I guess I never thought through that having the green space in the center of the metro is unique.
I couldn't agree with you more.
In a time of economic expansions on this tail-end of this bull market fueled by low tax policy, our leadership simply sends the wrong signals.
anti density sentiment
dabbling on transit citing lack of density
restrictive airbnb ruling although serious lack of hotel rooms
restrictive scooter policies
Unfortunately that coincides with the stop of the Orange-Durham light rail and unfortunate NC politics leading up to 2018 mid terms (which I better not to discuss again)
Back to Raleigh: If you want to do big things there is no way around being bold and risk something. How much longer are we resting on the reputation to be a great place for a family or college basketball - this will not cut if for a FAANG tech company or top notch talent these days.
I love these ideas

Nothing but shame, these old lawmakers and commissioners need to retire and stay at home and not promote their idiotic 16 century campaigns
Why the heck is it in Kansas City? Who was the idiot who fell on a rock and decided put it there?
I agree that this would be a good place for the college basketball hall of fame. The College Football Hall of Fame in Atlanta has been pretty successful (certainly more so than the Nascar Hall of Fame in Charlotte). It would make it a lot of sense for basketball here because of the Tobacco Road universities. It is too bad that the hall is in Kansas City and it is less than 15 years old so I doubt it is moving anytime soon.
Even if the hall isn't here I think Raleigh should lean into the whole college basketball thing. That is one of the unique parts of the culture here. There should be large events coinciding with the ACC and/or NCAA tournaments.
I'd rather have no halls of fame than the NASCAR Hall of Fame. Just saying.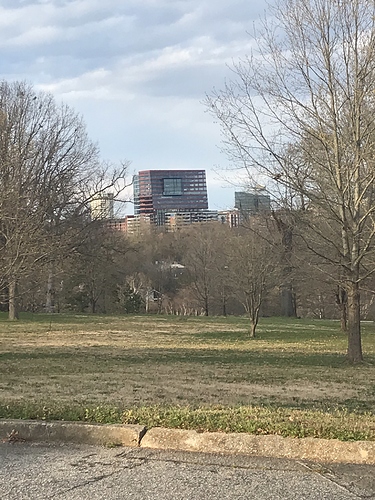 Straight shot from the Dillon to a high point at Dix Park. Requires 2 support towers between the sites. Solves transport to the park from downtown + tourist attraction. Palm Springs has a tram to the mountain top, we have Dix with city views.
Yes please! Eventually add a tower with observation deck near the Dix end of the tram…
Thank you! I'm actually surprised at the lack of memes and gifs on this site.