I'm interested too. I haven't heard anything about this (or seen anything in TBJ).
Is this the project at Durham Five Points (400 W Main)? If so, it must've grown since the last renderings I saw (16-stories?).
That's still the range I'm seeing in the renders on ALP website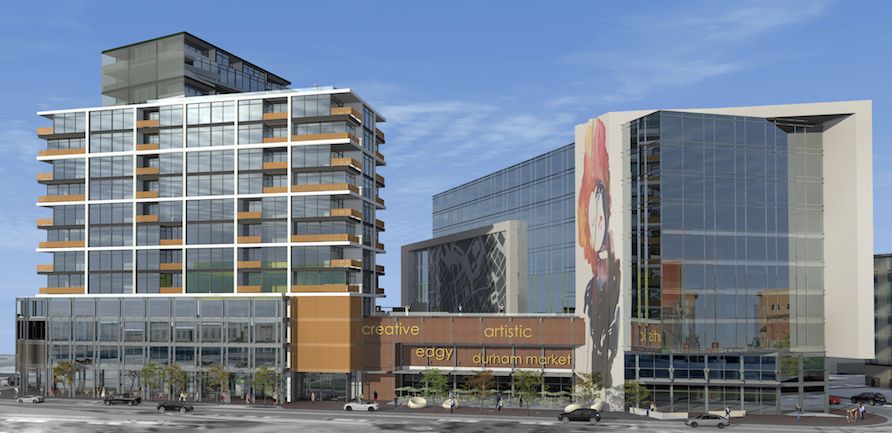 Yeah I think a really underrated part of cities is that neighborhood-centered commercial district with your local coffee shops, bars, pharmacy, etc. You see them everywhere in most major cities, but Raleigh doesn't have a ton except for Five Points, N. Person St., maybe the Gateway shopping center is turning into one. I guess if you're really generous you can include the commercial clusters along Falls of Neuse and Six Forks, but I wouldn't because they're not particularly walkable. I'm hoping New Bern, Wake Forest south of the Wegmans, and some other places evolve into that.
But having two distinct skylines is still pretty cool! Maybe three if the towers around Crabtree Valley get going.
What's the height or amount of floors? I'm curious because you said it's bigger than anything being proposed in Raleigh. Is it more than 33 stories??

Yeah the tower in north hills is supposed to be 33 floors, I believe? 31-33?

Nope, and it's been crickets for that project ever since these terrible concept renderings were released. I have no idea what it actually looks like now.
Walter tower at north hills will be 35, 121 Fayetteville is currently saying 32, and then there's Gotriangle which we don't know yet and Kane phase 3 which we don't know but could be up to 40.
35 stories is the last update for the Walter. Though it's all residential so i think it's supposed to sit just shy of 400ft. But the realist proposal right now for something 400ft+ is in fact 121 Fayetteville even though it's about 30 stories.
There's the 30 story tower proposed at Crabtree as well.
Yep that's true. Though I haven't heard a peep about it since the renderings were released.
There's also Kanes 40 story proposal, Smoky hollow phase 3 and the other 40 story proposal in the same area as well.
I'm hoping the strip on S. Street will get there with boulted bread, the proposed bottle shop, Sam Jones BBQ, and hopefully someone opens a shop/dining in this building!
620 W South St
None of those are confirmed proposals though; all it indicates is that they are above 20 stories. Many don't end up being anywhere near that height.
Right, those are just approved re-zonings. We haven't seen any renderings or plans yet.
The Durham project seems like speculation right now as well

I wonder why, I hope the plans haven't fallen through or been scratched
Hillsborough Street has this, and I tottaly agree that it is one of the best part of cities. I went to Louisville and they had lots of areas like that. I looked it up and in the 1920's they had 200,000 people and Raleigh had 20,000 . Not a lot of places like that built after the 1940's
Let's not get too excited about RUSBUS. It likely won't be higher than a few floors more than 20 stories.
121F? Is it going to get built? News since the reveal has been tepid.
As for Smoky Hollow 3, Kane's team is already asking us to lower our expectation.
Zimmer? They keep changing their plans this one is the least likely to happen.
The only 30+ story tower project in Raleigh that made it to the pre-construction phase is in North Hills.
Would be embarrassing if Downtown Durham had a 30+ story tower started while Downtown Raleigh can't get a third one out soon. Two Hannover Square is 29 stories.
I feel like 121 is going to surprise us. I always push it to the back of my mind but the group halls the money if they want to do it they can.