Trophy is expanding their Morgan Street location. They'll probably just own the entire building eventually.
I am soooo glad that they aren't abandoning their roots! That's a REAL neighborhood place.
A little more details on the expansion. I'm hoping they remove all that angled parking in the front.
https://dtraleigh.com/2018/06/trophy-brewing-expansion-on-morgan-street/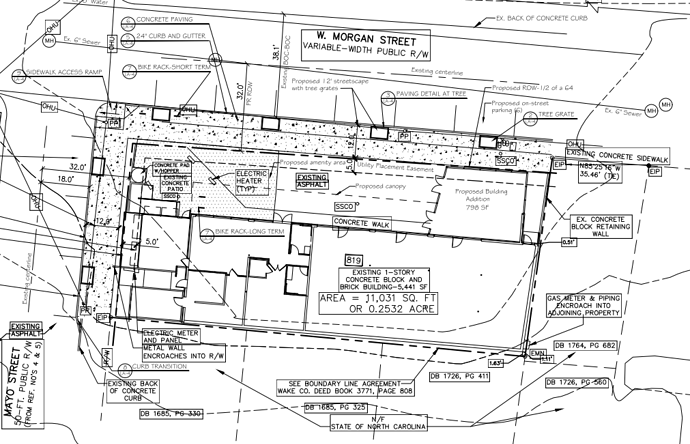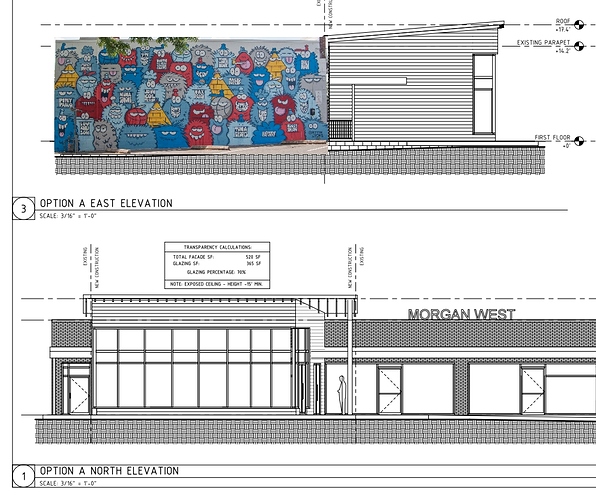 I added the mural in for reference.
Should help on those busy but extremely hot days you don't want to sit outside. Too bad they can't add more greenery features. I wonder if they can add some trees in the front somewhere to create more shade?
The plans show 6 curbside tree additions that are currently not there now.
Depending on the type of tree they choose, should definitely add some shade.
Appears they are adding a canopy as well in the front.
I have heard rumours of a mini Trophy based entertainment district down on Maywood… maybe another restaurant, entertainment venue with an outdoor stage. Have to think that won't get off the ground (if it's even a thing) until the Morgan expansion is complete. Really excited about the Morgan expansion, I haven't seen it written anywhere but I assume there will be an increased amount of indoor seating. Has anyone heard one way or another?
This expansion, and Trophy in general, reminds me of how this would happen in Austin.
It means that Austin uses buildings like Trophy is using theirs…taking something really nondescript and turning it into something delightful for the neighborhood on the outskirts of downtown. I welcome all sorts of these projects on the fringes of DT to anchor local scenes and draw others into them.
Lol gotcha. I like this too!
Good for Trophy. I'd love to see a few more businesses come to that neighborhood. I used to live on W. Morgan and always hoped those crummy government buildings would get sold and make way for better stuff between Trophy and Goodnight's/DDD/Remedy.
Seriously. That looks great.
There's going to be so much more room it's going to be crazy.
And once they get this done maybe they'll move forward with the rumoured expansion at Maywood.
If that's a true rendering that's a huge upgrade.
The first brewery downtown to add a legit stage area for bands is going to hit a homerun. When there're 10 good breweries for beer drinkers to visit, how do you differentiate? Entertainment!
See Pisgah Brewing in Asheville for reference: https://www.ashevillemusicguide.com/venue/pisgah-brewing-company
I'm playing Hugger Mugger brewing in downtown Sanford tonight lol
Yeah, I'm surprised that there aren't stages at any of the breweries around here. Music + beer + food trucks makes for a great combination.
Had a fun time in Abingdon, VA listening to live bluegrass, eating food truck BBQ and drinking some nice beer at Wolf Hills.