Let's get a six hundred footer in place of the hideous AT&t behemoth
The ATT isn't going anywhere anytime soon.
my wild A guess is would cost way more to; build a replacement,move all the switch gear, reroute under street wiring, and demo the building than the land is worth.
Guess is if want to make it look better than a bunker, best could hope for is for city or some other group to pay for redo outside with fake windows and such to make it look more like an office building.
lol, maybe pay for it out of city art's budget.
Breaking this off into it's own thread cause folks seem to always circle back to the ominous AT&T building. There's never any news around it but still, let's have the chat about it here one more time.

Most of them are built like bunkers. I wonder if it would be possible to put a few floors of some other use on top?
Other than that though, it's not going anywhere, probably ever.
This article goes into why it'll never go anywhere.
A quote from an AT&T technician:
All the copper wires that go underground are all centralized to that building. If you were to take the building up, it would be nothing but a giant plate of copper. If the building was blown up, you'd have to rebuild it, in the exact same spot. There is too much copper going underground to that spot for that building to go anywhere. As long as there are telephones and internet, that building will be sitting in that spot.
I think best case scenario we can hope for is some nice murals at street level.
Great planning. Let's bring all the coax to a centralized spot in downtown where future building utilities and massive infrastructure repairs will have to dodge our cables for decades.
How about getting some World renowned graffiti artists to come use the building as their canvas?
I said street level murals because I don't think the wall above that is really suitable for murals as it's not flat. Although I'm sure a professional artist could come up with something creative
Edit: here's me being proven wrong
As a technologist with some knowledge of the services these carrier facilities provide and the equipment within them, while the equipment and dependency within these buildings has shrunk considerably over the decades, access to the building can only be by authorized personnel. I seriously doubt AT&T would ever quarantine off a section of the building for any kind of sublet which would probably be a best case scenario though it's a far cry of achieving what we'd prefer which is have the building replaced. Probably 90% of the copper isn't even being used anymore but it's been replaced by fiber which creates the same challenge. That said, it's not completely absurd to think that AT&T, which probably owns this building, could do some cost analysis of moving these facilities with different routes (MUCH easier to do these days with fiber and technology around it) and eventually not have a dependency on this building, then sell it. That would probably be a 10 year project at the rate AT&T moves.
I pulled this from the brochure for Tower 2 for Bloc 83. It shows just how "ugly" the AT&T building is…imo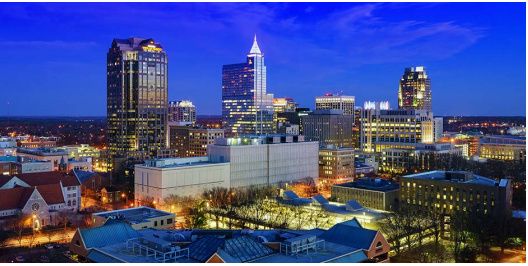 How would we go about contacting someone from AT&T to see if they would allow a mural painted there? I doubt they'd go for it but worth a shot…
I walk by the building several times every week, I don't even notice it anymore. To me it just is what it is…
…or grow some ivy on it and/or make it living walls?
I actually think that AT&T may go along with this. Maybe if the City guided and it's citizens did the work? It could be an "outside-the-box" project. (pun intended)
This is one way that we "in" Raleigh say to those "outside" of Raleigh, we can be different?
OMG I am just now seeing this post. Thank you!

In all honesty the situation could be worse. Thankfully it's a low rise and doesn't show up in too many pictures of DTR unlike the one in Kansas City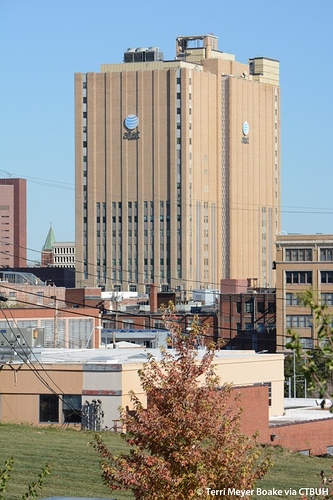 Or even worse the Verizon building in NYC. It looks like a villains lair straight out of Marvel.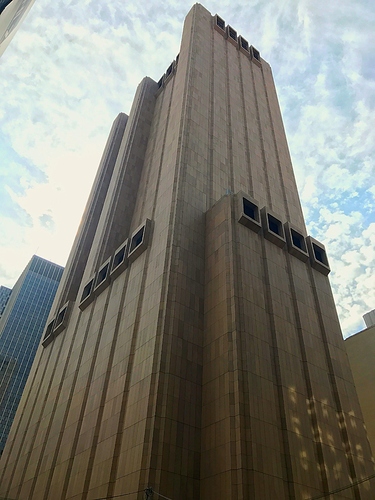 Only so much as they are "taller" not uglier…