Takes an act of God to get the railroad to sign off on anything like this unfortunately
Pre flex-post (that is down now), but here is a snap from last week of Raleigh's 1st parking protected bike lane as well (this is West St, at North Street).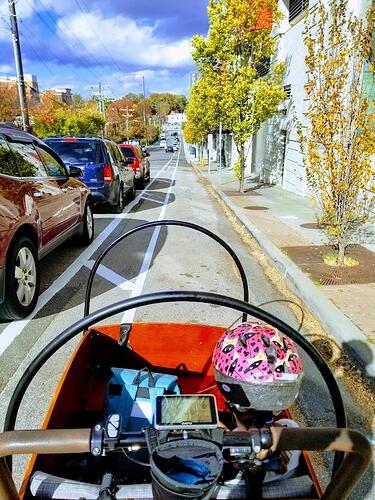 Has the city talked about eventually replacing the paint and flex posts with concrete curbs? From your picture it looks like Raleighites are fairly well-mannered about not parking in the bike lane, even without flex posts - which is great!! But in other cities like New York it seems like it's an eternal struggle. Would hate to see us wind up there.
Agree! Horizontal separation is needed and it's something we have been asking for (from an advocacy level) since day 1. Curb stops are great (cheap, easy to move, if needed). Hope to see that start to be incorporated soon as an immediate next step!
Long term - the plan is to have this corridor become an urban greenway connecting Five Points to Dix Park. Hope to see this corridor evolve into something like this:
In urban areas: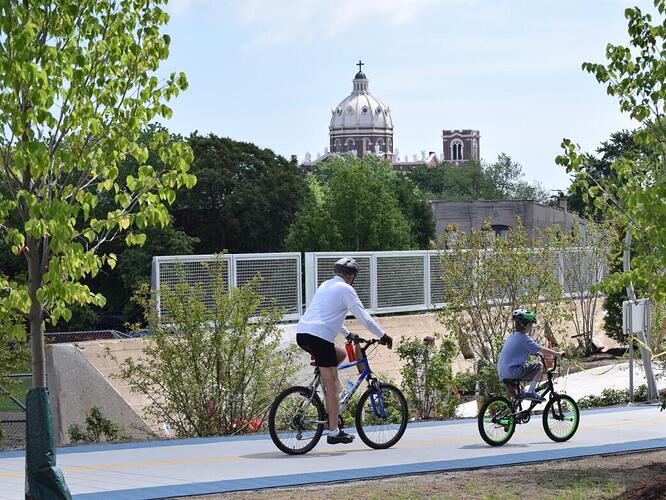 Bridges to connect:

Along parkways:

These are all images from the Chicago 606 Trail.

Oh wow, this is beautiful

.
Are there any plans to connect from Crabtree to East Whitaker? I thought there was something installed but I think that was more south.
Calling all advocates! Join us for the Oaks and Spokes Advocacy Through Action kick-off event tomorrow at Raleigh Union Station.

Would love to see folks, 6:30pm. Details here
.
This is a great video that clearly lays out our relationship to cars within our neighborhoods, and how even suburbanites and its developers work hard to limit cars.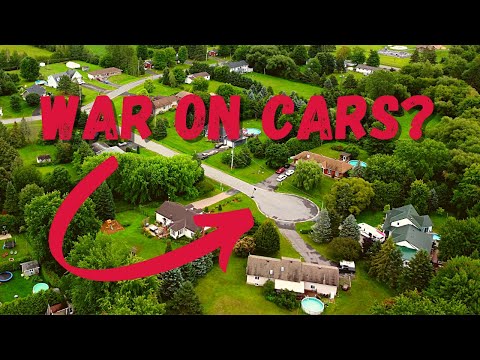 Probably the best overall explanation I've seen. They should do a deeper dive on how mixed use even away from city centers is largely beneficial
I am for anything that gets bikers out of my way.
We should be pursuing strategies to reduce the amount of driving we do in our immediate communities by making them more pedestrian and bike friendly. More walkable mixed use within our suburban communities will allow us to have:
Fewer miles driven when a car is required
Fewer trips that require a car.
Safer streets for pedestrians, cyclists, and children.
Absolutely! I've been doing some education / outreach about this out in Wendell. Long, long, long way to go out here to get that in the minds of people but the town itself is starting to adopt the ideology
Looks like construction on Atlantic Ave will begin next month. The city will hold a pre-construction meeting tonight at 6pm. The improvements are from New Hope Church Rd. to Highwoods Blvd.
Probably the biggest addition being the multi-use path.
Now just gotta get that under 440…
What they can do is put the sidewalk and path on the outside of the beams. Might have to have them above road grade a bit. They'll also have to bring the median in through there. Really weird that bridge was built with no wiggle room. It doesn't seem too old.

At the Atlantic Ave pre-construction meeting, the city PM mentioned that the city has hired a consultant to look at opportunities to connect the segment of Atlantic Ave between Highwoods to the greenway
I don't know all of the details, but when the Atlantic Avenue corridor was created, the city's intention was not for it become a place for development, rather corridor to support commuting from north Raleigh to downtown. They envisioned a corridor without curb cuts that slow down traffic. I don't think that they had any idea how large Raleigh & Wake could become.
Slightly off topic (maybe), but me and a friend did the Crabtree Creek/Falls River Trail/ walnut Creek/Rocky Branch/House Creek loop today. We stopped off at Raleigh Brewing Company and I was surprised to see how many bikes were there. Looks like they need to get some actual bike parking but it was interesting to see people trying to find anywhere to park their bikes. I'm also posting the pedestrian bridge across 440. It actually looks way better in the photo. My phone cheated.
You can see two bikes parked in the photo here.