Dan , Do you think @ this point that a stadium will be a part of this project ?
If NCFC is still partnering with Kane to start formal public engagement as Dan says, then I'd think that it's still part of the desired plan.
But anyways F*** Charlotte FC
Yesterday's RALToday has a article concerning 15 future Raleigh Projects . They said that DowntownSouth Project is suppose to start either in the fall or spring . They included the soccer stadium in this article .
I'm still trying to figure out how much of RALToday is actual journalism and how much is "this is a project we heard about once so we'll put it on a list." Still a fan either way, though.
I got a email yesterday from Bonner Gaylord , one of Mr. Kane's right arm man , & he did not comment on this project starting in the fall or spring but he did say that DowntownSouth was a active project .
I just got this email about Downtown South from Bonner Gaylord:
"Hello!
Please join me for a virtual meeting on the proposed Downtown South project in South Raleigh and the transportation benefits and traffic plans for the project. We'll give an overview of the project before diving into the transportation topic. "
I wonder what will change now that tourist tax money is recommended to all going to the PNC arena reno or replacement project.
I spoke with Steve Malik several days ago and asked about whether the stadium was still happening. his answer: "obviously a bit delayed with the state of the world but YES, it is happening."
There is to me at least, a lot of distance between downtown proper and downtown south project. Probably why I'm really not that excited about it. Guess it will clear up the blight that exists there now, but it will be the age old gentrification battles that will take decades to connect this area to downtown.
I think the Southern BRT corridor will cause the infill to occur much more quickly than it has in the past.
Ha Ha




Sorry…



Yeah, I will be dead before they even complete the 20th study and surveys to construct the BRT. Bet budget shortfalls kill it anyway.
Really looking forward to your update information after your meeting with Bonner . Thanks also for this update .
I don't believe there is much gentrification in Caraleigh. A lot of the property's are owned by several landlords. In the past when someone passed away in the neighborhood, a lot of these homes were family property's from the 1940s, several landlords would go to family and offer $60k, $70k, etc
I'd say more than half are owned by landlords. I live in Caraleigh and the only reason I was able to buy my home, back in 2008, was because I was going to be owner occupied.
I see where there have been a few houses in Caraleigh that have sold for $240+ per square foot in the past two years. I think it's only a matter of time before those landlords start selling or flipping their properties.
Agreed. It's inevitable that prices will rise in those neighborhoods.
Downtown South groundbreaking likely end of next year with the entire project taking from 10 to 30 years to realize much like North Hills has grown.
Overall the projects appears to be more urban than North Hills with smarter, urban grid design. I approve so far.
Some protected bike lane stuff but that depends on the city road codes.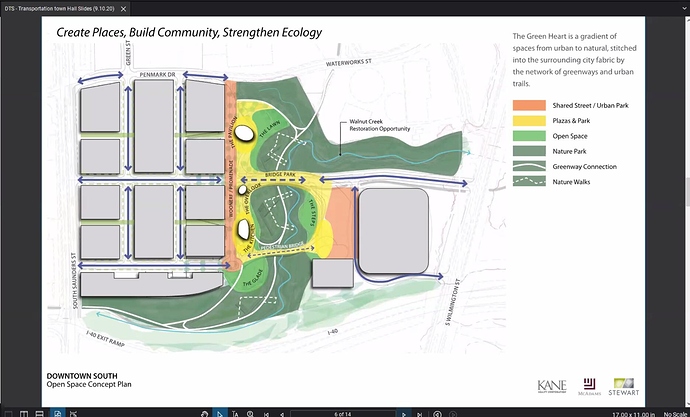 They also discussed the stadium. Characterized it as an entertainment and sports venue not a soccer stadium. They mentioned Dreamville, and Shaw. Discussed how Red Hat is going away. Also mentioned some dissatisfaction with Walnut Creek.