Figured we could start a new thread. Here are some more renderings
298 Units 222(1br) 64(2br) 12(3br)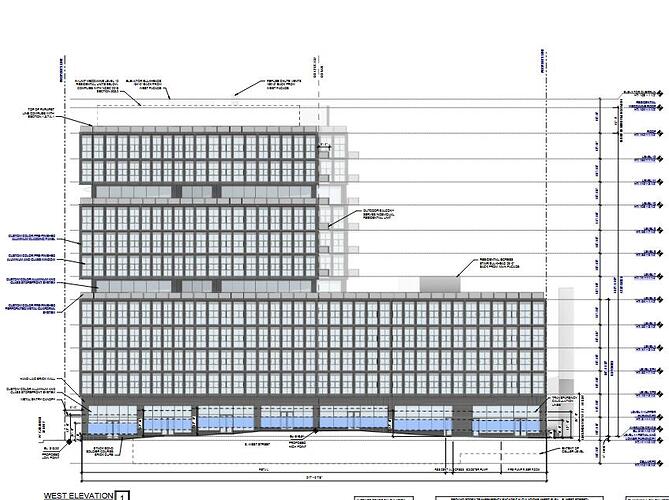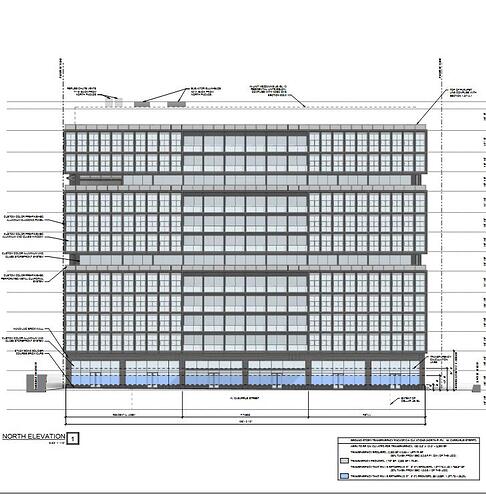 I guess some more stats:
298 total units
~222 1 bd
~64 2 bd
~12 3 bd
Also the 12th floor units have the extra mezzanine floor. Wonder if those mezzanines will get roof patios like 615 Peace as well.
~289 parking spaces
Getting some coolish 60's vibe off of this compared to the current Internationalist schtick. Breaking up the massing as they've done is refreshing.
Original ASR post in the Fairweather thread for reference:
Seriously - this may be the coolest residential building in all of Raleigh if it ends up looking even remotely like this render. With this, the Fairweather on the same block, and the 320 South St apartment tower, this is going to become of Raleigh's most architecturally interesting zones!
EDIT: I forgot about the huge brick storage building. Nevermind. LMAO
They are described as "In-unit Mezzanine", there also appears to be roof access to level 5, where I would assume they build a pool.
I actually like this quite a bit for a simple 12 story apartment building
Wonder if this helps jumpstart Kane's shelved restaurant/retail reject at 516 W Cabarrus
Gotta be a name for this design. Fancy texas donut, Raleigh donut, 12-story donut.
We need like 10 more of these on unused lots all over downtown and beyond.
This is really good architecture for Raleigh. If you told me this was going up in SF I would believe you.
Don't jinx this, this is really nice.
One could walk out the front door over to the commuter platform at RUS. Winning!!
You have to walk all the way around The Depot, down Harrington and then Martin to then main RUS terminal to get on the train. Unfortunately you can't just walk up the ramp to the train boarding area from S Harrington (or off when returning).
Well, kinda. There is a pedestrian access directly to the platform from Cabarrus. It's for emergency egress. But, if/when the second platform is added, there will likely be a contingency for that.
The same thing was done at Grand Central Terminal to give alternate access further up Park Avenue that didn't require having to only go through the head house on 42nd Street.
There was also a similar access built in Chicago (unofficially called the Northwest Passage) which created a connection between the CTA's Pink/Green Clinton station and the platforms of the former Chicago & Northwestern commuter rail station. This has since been removed, however.
I'll be even more curious about the flow dynamics when the Cabarrus Street crossing gets closed once the West Street Extension is completed.
I'd love to see that platform gate open for general access. When I've asked about it in the past I was told if you used that ramp to come/go, you'd be banned from the train station for 24 hours. It was an odd response, but I got the point nonetheless.
Wow, that FAQ is quite dated. And I hope they don't close Cabarrus for ped/bike.
It's a security hole, yes. But, it still has potential. The beautiful historical irony is that the gate is the site of Raleigh's first Union station. The Raleigh & Gaston as well as the Richmond & Danville used that location for joint passenger operations in the 1840's. (seen in the middle right of the Southern Ry Freight Warehouse)
This, of course, was replaced by Raleigh Union Depot at Dawson and Martin streets in the 1890's. It's unclear when this structure was demolished.
(From the Albert Bardon photograph collection)
(Sanborn map of Raleigh, 1888)
Hard to say. It gets touchy when negotiations start happening with a railroad.
There will be a similar kerfuffle when it comes time to close the Hargett and Jones street crossings. Oof!
…as if pedestrians wouldn't just jump whatever barriers they'd put up