If you didn't already know, the United States is competing to host the world's biggest amateur sports event after the Olympics, and they want us to be the host!
Over 10,000 college student-athletes and staff from 150+ countries are expected to compete in 15-18 sports over twelve days. We've held a similar mini-Olympics event back in the 80s, but it'll be the first time the Triangle would host an international event of this caliber.
As of Aug. 2021, our only competition is a politically weird bid from South Korea. But more importantly, we don't know much about our own bid except for this map that I posted in the stadium thread: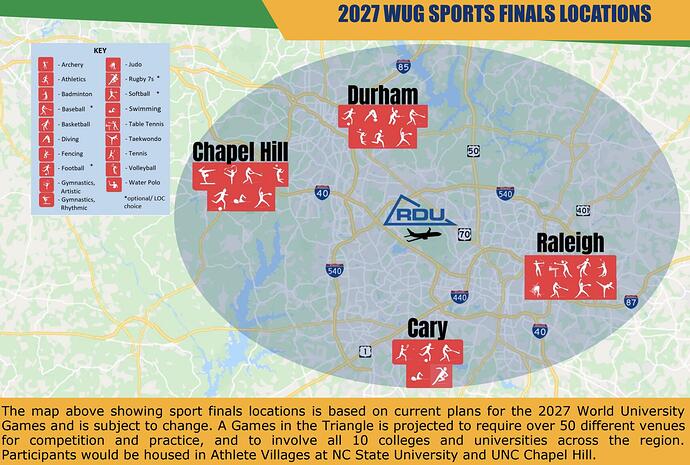 I got inspired by @daviddonovan's post, and wanted to see what the rest of the community thinks. How do y'all feel about this bid? What should I ask the organizing committee?
How do you feel about the Triangle possibly becoming the 2027 World University Games (WUG) host?
The Triangle can and should become the WUG host.
I want to know more about our WUG bid before I form an opinion. (ask your questions below!)
It'll be cool if the Triangle wins, but I can go either way.
I don't care about the Triangle hosting the WUG.
We shouldn't waste our time with the WUG.